Cook Time: 35 minutes
Author: Ginsburg Enterprises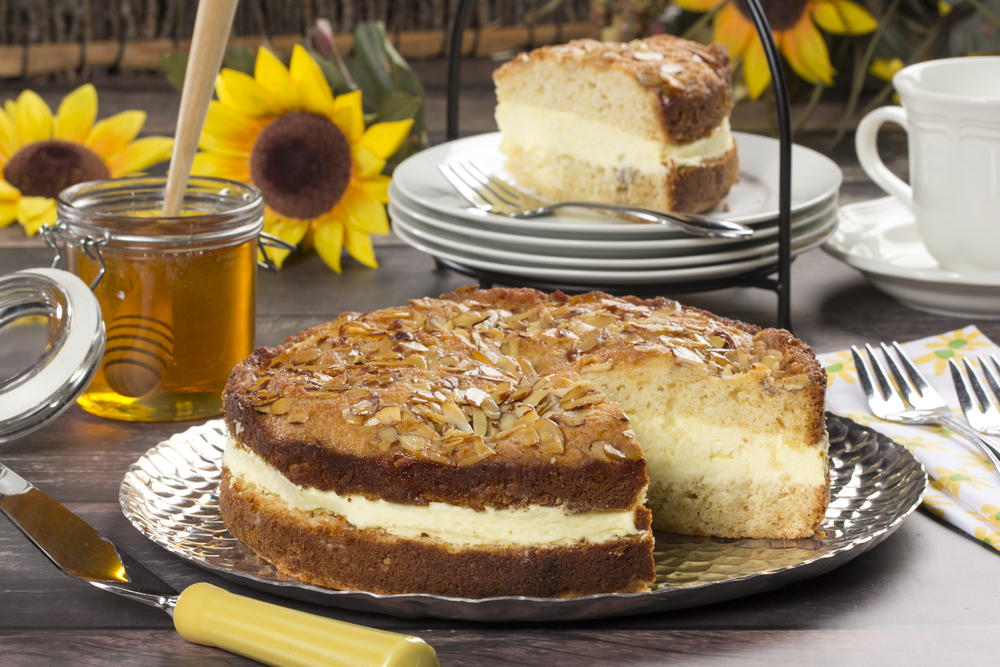 Ingredients
· 1 stick plus 6 tablespoons butter, softened, divided
· 3/4 cup honey, divided
· 2 teaspoons vanilla extract, divided
· 1/2 cup sliced almonds
· 1/4 cup sugar
· 2 eggs
· 1 3/4 cups plus 1 tablespoon all-purpose flour
· 1 tablespoon baking powder
· 1/2 teaspoon salt
· 1/2 cup milk
· 2 cups heavy cream
· 1 (3.4-ounce) package instant vanilla pudding and pie filling mix
Instructions
Step 1
Preheat oven to 375 degrees F. Coat bottom and sides of a 9-inch springform pan with cooking spray, and line bottom with wax paper; set aside.
Step 2
In a small saucepan over medium-high heat, melt 6 tablespoons butter and 1/2 cup honey. Bring to a boil, reduce heat to low, and simmer 2 minutes. Remove from heat and stir in 1 teaspoon vanilla and the almonds; let cool.
Step 3
In a large bowl, beat remaining 1 stick butter and the sugar until creamy. Add remaining 1/4 cup honey, the eggs, and remaining 1 teaspoon vanilla; beat until thoroughly mixed.
Step 4
In a medium bowl, combine 1-3/4 cups flour, the baking powder, and salt; mix well. Gradually beat flour mixture and milk into batter until smooth. Spread batter evenly in pan. Sprinkle remaining 1 tablespoon flour on top, and lightly press down with fingers. Pour almond mixture evenly over flour.
Step 5
Place pan on baking sheet and bake 30 to 35 minutes, or until toothpick comes out clean. Let cool. Remove springform pan ring, invert cake onto baking sheet, and remove bottom of pan and wax paper. Invert cake top side up onto platter. Slice cake in half horizontally.
Step 6
In a medium bowl, beat heavy cream until stiff. Add pudding mix and beat until thoroughly combined. Spread mixture onto bottom half of cake. Place top of cake over cream mixture. Serve or refrigerate until ready to serve.