Cheesy Taco Pockets
Total Time: 45 minutes
Prep Time: 30 minutes
Cook Time: 15 minutes
Servings: 24
Price per serving: $1.65
Author: Mamas Kitchen Hope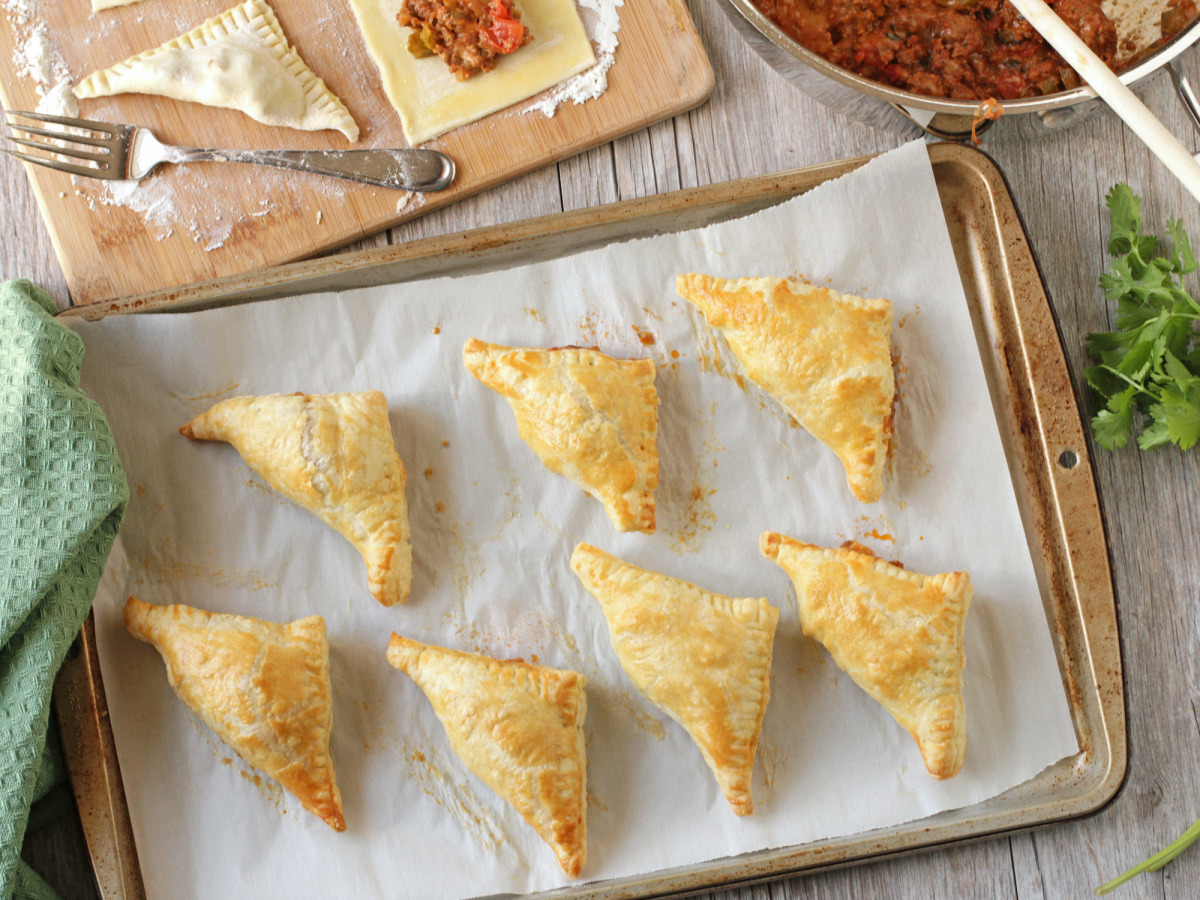 Ingredients
· 2 (17 1/3 ounce) packages puff pastry sheets, 2 sheets per package
· 1 egg
· 1/2 tablespoon water
· 1 1/2 lbs ground beef
· 1/2 cup green pepper, chopped
· 1/2 cup white onion, chopped
· 1 garlic clove, minced
· 1 medium tomatoes, seeded and chopped
· 1/2 cup catsup
· 1/4 cup fresh cilantro or 1/4 cup parsley, chopped
· 1 teaspoon ground cumin
· 2 teaspoons chili powder
· 1 teaspoon oregano
· 1 teaspoon cinnamon
· 1 1/2 cups monterey jack pepper cheese, shredded for a spicier result or 1 1/2 cups colby cheese, shredded, any similar cheese will work
Instructions
Step 1
Remove pastry from freezer and allow to thaw at room temperature for about 30- 40 minutes or until they are easy to handle.
Step 2
Meanwhile, add the beef, onion and green pepper to a large skillet and cook until beef is browned and vegetables begin to soften. Stir occasionally to break meat up and prevent scorching.
Step 3
Add garlic and cook for one more minute, stirring constantly.
Step 4
Drain all the grease from the pan and return to the heat.
Step 5
Add tomato, catsup, cilantro or parsley, cumin, chili powder, oregano and cinnamon. Reduce heat to low and allow to simmer for about 10 minutes. You want a pretty dry mixture so your filling stays put in the pastry.
Step 6
Remove from the heat. Stir in the cheese and set aside until cool enough to handle.
Step 7
Work with one pastry sheet at a time, keeping the others covered so they do not dry out.
Step 8
On a lightly floured surface roll out a pastry sheet to a rectangle about 16 x 12 inches and then cut into 8 even pieces.
Step 9
Put a heaping teaspoonful of meat mixture in the center of the pastry. (I always seem to over fill them no matter how carefully I measure so you may want to start with less than you think you should use and add a little more if needed. Voice of experience! ).
Step 10
Mix the egg and water together and brush pastry edges with it.
Step 11
Grab one corner of a pastry and fold over to form a triangle. Press edges with a fork to seal and brush the tops with more egg mixture.
Step 12
Repeat until all ingredients are used.
Step 13
Place the pastries on a sprayed or greased baking sheet. You could also use parchment paper or a silicone liner.
Step 14
Bake at 375 degrees for about 15-17 minutes or until golden brown.
Step 15
OAMC-To Freeze and Bake Later: Place pockets on parchment paper or wax paper and freeze until firm. They can then be transferred to a zip top bag and stored in the freezer. Remove desired amount from freezer when ready to use and bake as directed, increasing time to 17-20 minutes or until golden brown.
Step 16
Great served with sour cream, catsup or your favorite dip.