Chicken roast (Bangladeshi) Kamalika Basu De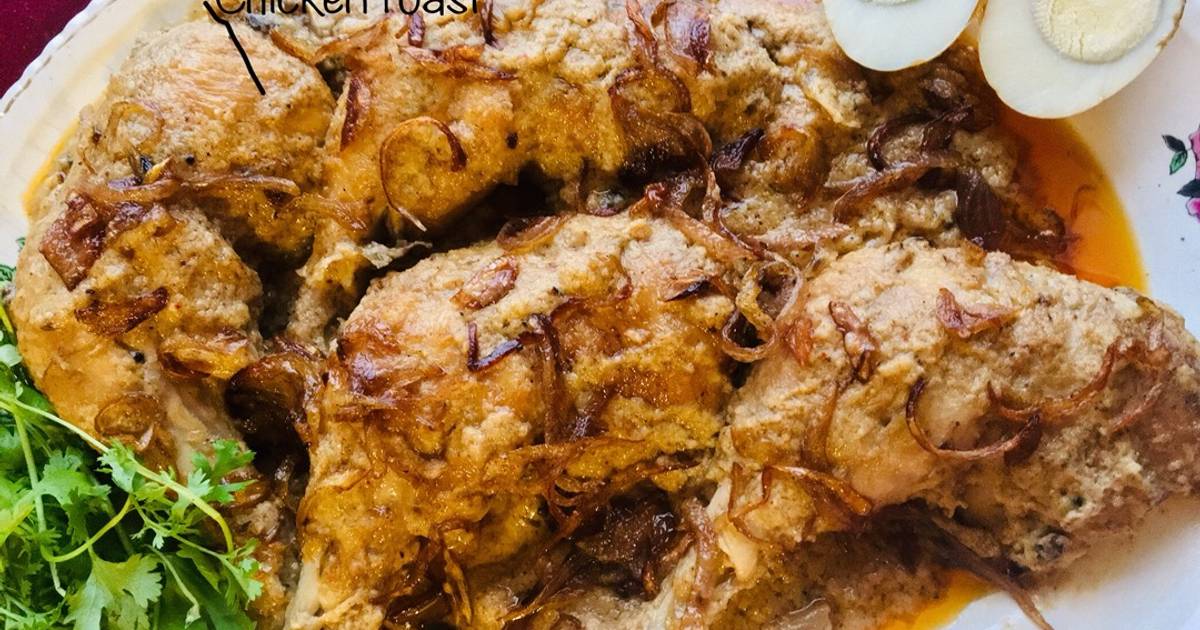 Ingredients
·
· 6 pieces Chicken legs
·
·
· 1 tablespoon Ginger juice
·
·
· 2 Onion paste
·
·
· 1/2 teaspoon Ginger garlic paste
·
·
· To taste Salt
·
·
· 1 teaspoon Red chilli powder
·
·
· 1/2 cup Curd
·
·
· 1/2 cup Fresh cream
·
·
· 1 teaspoon Rose water
·
·
· Handful Raisin
·
·
· 1 teaspoon Poppyseeds
·
·
· Whole garam masala
·
·
· 6 to 7 cloves
·
·
· 4 pods green cardamom,
·
·
· 1 bay leaf
·
·
· 1 teaspoon ghee
·
Instructions
Step 1
Wash, clean and pat dry of chicken legs. Marinate them overnight with of ginger juice (I've blended the ginger with increased amount of water and then passed it on through a sieve). The next day shallow fry the chicken pieces on both sides well and keep it aside.
Step 2
In a wide pan or kadai add refined oil and ghee. As it heats up add an inch of whacked cinnamon, green cardamom, bay leaf and cloves. Make a paste of onions, curd, garlic, ginger and add to the oil.
Step 3
Give a stir to the mixture and add the chicken pieces to it. Gently stir to avoid the chicken breaking up. Cover and cook in simmer mode for 10 minutes. Add salt and red chilli powder. Mix well.
Step 4
Add fresh cream and cook well. Cover till the chicken tenderise. In the blender make a paste of a raisins and poppy seeds with little water. Add this paste to the chicken. Stir well, add rose water. As oil leaves sides and the chicken tenderise completely switch off the gas.
Step 5
Slice one big onion finely and fry them till brown with little salt. Sprinkle on the chicken while serving. This enhances the taste of the dish and is a must add on to it. Serve with roti, paratha or as a side dish with biryani.