Prep Time: 15 minutes
Cook Time: 10 minutes
Total Time: 25 minutes
Servings: 4
View Similar Recipes With: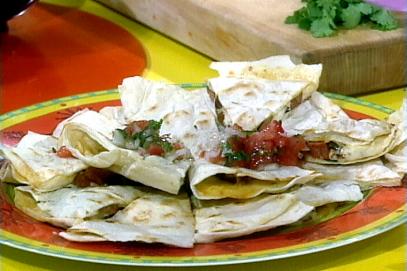 Ingredients
· 4 large (12-inch) flour tortillas
· 2 cups shredded Monterey pepper Jack or smoked Cheddar
· 1/2 pound chorizo or andouille, casing removed and finely chopped
· 2 scallions, chopped
· 3 small plum tomatoes, seeded and chopped
· 1 jalapeno, seeded and finely chopped
· 1 small white onion, finely chopped
· Handful cilantro, finely chopped
· Coarse salt
Instructions
Step 1
Preheat a nonstick skillet or griddle pan to high heat. Blister a flour tortilla for 20 seconds, flip. Cover half the tortilla surface with shredded cheese, bits of chorizo or andouille, and chopped scallions. Fold the tortilla in half and cook a minute longer, 30 seconds on each side, pressing down gently with a spatula. Cut quesadillas into 4 wedges and top with salsa.
Step 2
For salsa, combine ingredients in a small bowl and spoon over wedges of quesadilla, as you snack.