Homemade Teriyaki Sauce Recipe
Total Time: 15 minutes
Prep Time: 5 minutes
Cook Time: 10 minutes
Servings: 1
Author: Deborah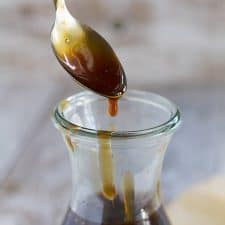 Ingredients
· 1 cup water
· 5 tablespoons packed brown sugar
· 1/4 cup soy sauce
· 1-2 tablespoons honey
· 1 large clove of garlic, finely minced
· 1/2 teaspoon ground ginger
· 2 tablespoons cornstarch
· 1/4 cup cold water
Instructions
Step 1
Combine the 1 cup water, brown sugar, soy sauce, honey, garlic and ginger in a medium saucepan and set over medium heat.
Step 2
In a small bowl, combine the cornstarch with the 1/4 cup water and whisk until dissolved. Add the cornstarch mixture to the saucepan.
Step 3
Heat the sauce until it thickens to your desired thickness. If the sauce becomes too thick, add more water to thin it out.