How to Make Apple Cider Cookies Video
Total Time: 90
Prep Time: 20
Servings: 40
Price per serving: $0.85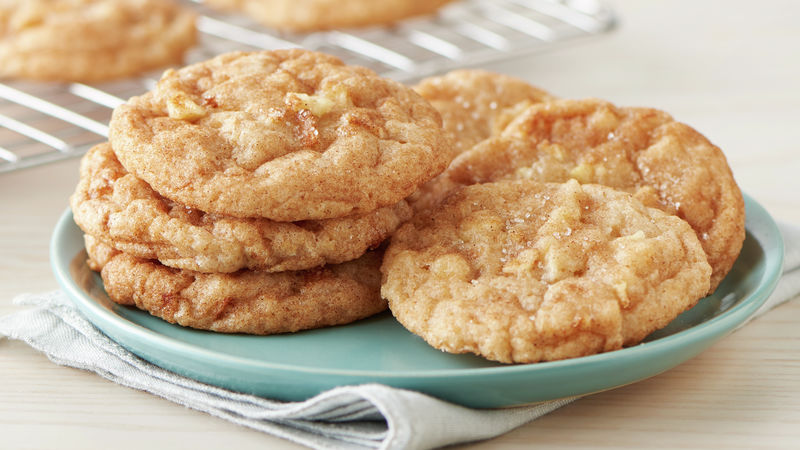 Ingredients
·
· 2
·
· tablespoons sugar Save $
·
·
· 1
·
· package (0.74 oz) apple cider instant drink mix (do not prepare) Save $
·
·
· 1 1/2
·
· teaspoons ground cinnamon Save $
·
·
· 1
·
· pouch (17.5 oz) Betty Crocker™ sugar cookie mix Save $
·
·
· 1/2
·
· cup butter, softened Save $
·
·
· 1
·
· egg Save $
·
·
· 3/4
·
· cup finely chopped peeled apple (1 medium) Save $
·
Instructions
Step 1
Heat oven to 375°F. In small bowl, mix sugar, 1 teaspoon of the apple cider drink mix and 1/2 teaspoon of the cinnamon; set aside.
Step 2
In large bowl, stir cookie mix, softened butter, egg, remaining apple cider drink mix and cinnamon with spoon until soft dough forms. Stir in apple pieces until combined. Shape dough into 40 (1 1/4-inch) balls. Roll balls in sugar-spice mixture. Place 2 inches apart on ungreased cookie sheets. Discard sugar-spice mixture after rolling balls.
Step 3
Bake 7 to 9 minutes or until edges are set and light golden brown. Cool 1 minute; remove from cookie sheet to cooling rack. Cool completely, about 20 minutes. Store covered in airtight container.