Layered Pineapple Dream
Cook Time: 10 minutes
Author: Amanda Formaro for RecipeLion.com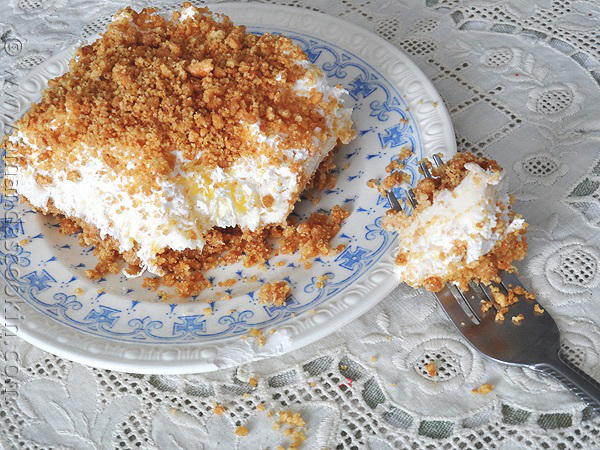 Ingredients
· For the Crust:
· 2 1/2 cup graham crumbs (2 sleeves)
· 1/2 cup unsalted butter
· __BLANK__
· For the Layers:
· 2 cup powdered sugar, sifted
· 1/2 cup unsalted butter, softened
· 4 ounce cream cheese, softened
· 8 ounce Cool Whip
· 1 (20-ounce) can pineapple, drained well
Instructions
Step 1
Preheat oven to 300 degrees F.
Step 2
Melt butter in the microwave and allow to cool.
Step 3
Combine the crumbs and butter and toss together until incorporated. Press 2 cups of the crumb mixture firmly into an 99 square pan and bake for 8-10 minutes. Place on wire rack to cool.
Step 4
Beat the cream cheese and butter together until creamy. Turn the mixture down to low and add the powdered sugar one cup at a time until incorporated.
Step 5
Turn up and beat well for a minute or so. Add a heaping tablespoon of the drained pineapple and stir in with a rubber spatula.
Step 6
Spread the cream cheese and pineapple mixture over the crust.
Step 7
Fold the remaining pineapple into the Cool Whip and spread on top of the cream cheese mixture.
Step 8
Sprinkle the remaining graham cracker crumb mixture on top. Refrigerate for at least 4 hours, preferably overnight.