Lemon Ricotta Pancakes With Warm Blueberry Compote
Prep Time: 25 minutes
Cook Time: 20 minutes
Total Time: 45 minutes
Servings: 6
Cost: $6.37 /serving
Author: Annacia
View Similar Recipes With: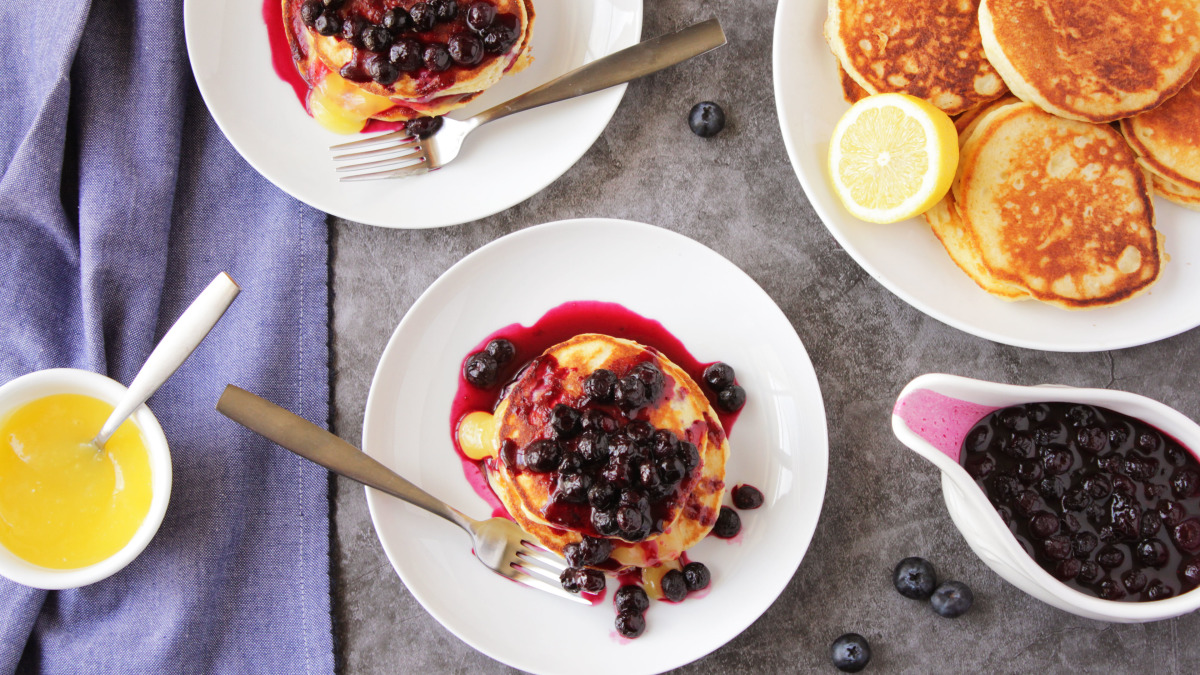 Ingredients
· 4 cups blueberries (fresh or frozen)
· 2 teaspoons cornstarch
· 1 cup sugar
· 1/2 cup water
· 1/4 cup prepared lemon curd (from 10-to-12 ounce jar)
· 1 tablespoon fresh orange juice
· 1 pinch salt
· 1 tablespoon butter
· 1/2 teaspoon pure vanilla extract
· 2 cups all-purpose flour
· 2 teaspoons baking powder
· 1/2 teaspoon salt
· 2 tablespoons sugar
· 1 grated lemon, zest of
· 2 eggs, separated
· 1 cup ricotta cheese, preferably whole milk
· 1 1/2 cups milk, preferably whole
· confectioners' sugar
Instructions
Step 1
For the blueberry compote, in a saute pan, combine the blueberries, cornstarch, 1 cup sugar, water, lemon curd, orange juice, and a pinch of salt. Gently cook over medium heat until the blueberries are tender but not broken down, and the mixture simmers and thickens. Remove from the heat; stir in the butter and vanilla. Set aside to cool slightly.
Step 2
For the pancakes, in a medium bowl, sift the flour, baking powder, salt, and sugar. Stir in lemon zest. Set aside. In a large bowl, mix the egg yolks and the cheese. Fold in the dry ingredients alternately with the milk. In a separate bowl, whip the egg whites until medium-stiff peaks form. Fold into the batter.
Step 3
To complete the recipe, heat a buttered nonstick skillet or griddle over medium-high heat or to 350ºF (water drops on the skillet should skitter or sizzle when hot). For each pancake, pour 1/4 to 1/3 cup batter and cook until bubbles form on top. Turn and cook until the bottom is golden brown and the pancake is cooked through.
Step 4
To serve, stack three pancakes on each plate with a dollop of the remaining prepared lemon curd between pancakes. Sprinkle with confectioner's sugar and pour compote over the pancakes.