Mezzetta Roasted Red Bell Pepper Linguine With Shrimp Recipe by Tasty
Servings: 4
Price per serving: $8.95
Author: Mezzetta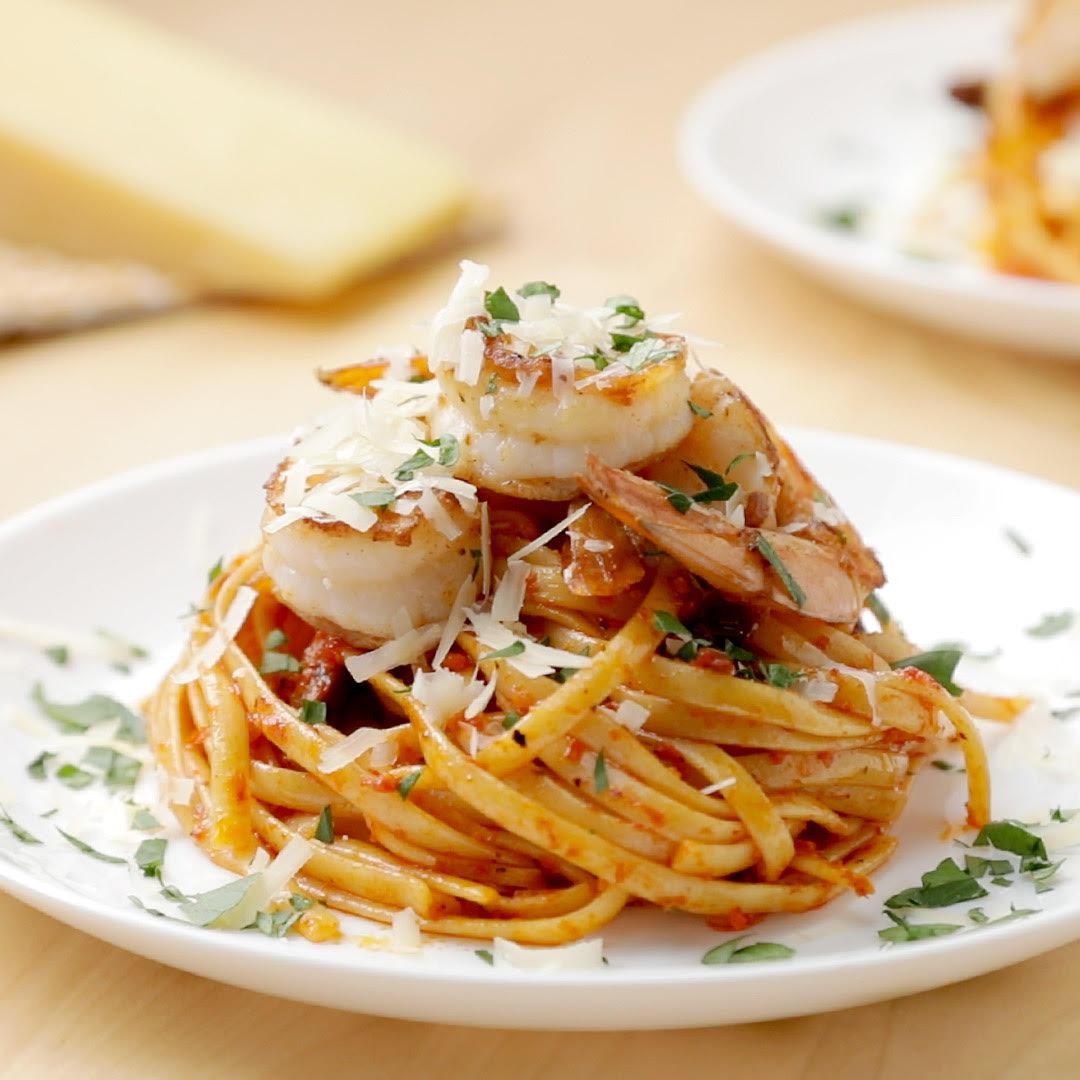 Ingredients
· 20 medium raw shrimps, peeled and deveined, tails removed if desired
· ½ teaspoon kosher salt
· ¼ teaspoon black pepper
· ½ teaspoon smoked paprika
· ¼ teaspoon garlic powder
· 2 tablespoons olive oil
· 1 jar Mezzetta® Roasted Red Bell Peppers, drained
· ¼ cup Mezzetta® Sun-Ripened Dried Tomatoes in Olive Oil, drained, divided
· 1 clove garlic
· ½ tablespoon lemon juice
· ½ teaspoon kosher salt, plus more to taste
· ¼ teaspoon black pepper, plus more to taste
· ¼ teaspoon smoked paprika
· 1 pinch red pepper flakes
· ¼ cup olive oil
· 2 shallots, diced
· ½ lb linguine, dried, cooked according to package instructions
· ¼ cup shaved parmesan cheese
· 2 tablespoons fresh parsley, chopped
Instructions
Step 1
To season the shrimp: In a medium bowl, add the shrimp and sprinkle with the salt, pepper, paprika, and garlic powder. Mix to coat evenly. Cover the bowl and place in the refrigerator until ready to cook.
Step 2
Make the roasted red bell pepper sauce: Add Mezzetta® Roasted Red Bell Peppers, 2 tablespoons Mezzetta® Sun-Ripened Dried Tomatoes in Olive Oil, garlic, lemon juice, salt, pepper, smoked paprika, red pepper flakes, and olive oil to a blender and blend until smooth. Set aside.
Step 3
Remove the shrimp from the refrigerator. Heat the olive oil in a large nonstick skillet over high heat. Working in batches if needed, add the shrimp in a single layer and cook undisturbed for about 90 seconds, or until golden brown. Flip and cook for another minute, or until browned and cooked through. Transfer the shrimp to a plate and cover to keep warm.
Step 4
Without wiping out the pan, reduce the heat medium, and add the shallots. Slice the remaining 2 tablespoons Mezzetta® Sun-Ripened Dried Tomatoes in Olive Oil into thin strips and add to the shallots. Cook, stirring frequently, for 3–5 minutes, or until the shallots soften.
Step 5
Pour the roasted red bell pepper sauce into the pan and stir gently until simmering. Reduce the heat to medium-low and simmer for 5–8 minutes, until the sauce reduces slightly. Season with more salt and pepper to taste.
Step 6
Toss the cooked linguine in the sauce, then divide onto serving plates. Top each with the shrimp and garnish with the shaved Parmesan and parsley.
Step 7
Enjoy!