P.B.J.(sandwich-shaped ) Cookies:
Total Time: 25 minutes
Prep Time: 15 minutes
Cook Time: 10 minutes
Servings: 24
Price per serving: $1.53
Author: Poker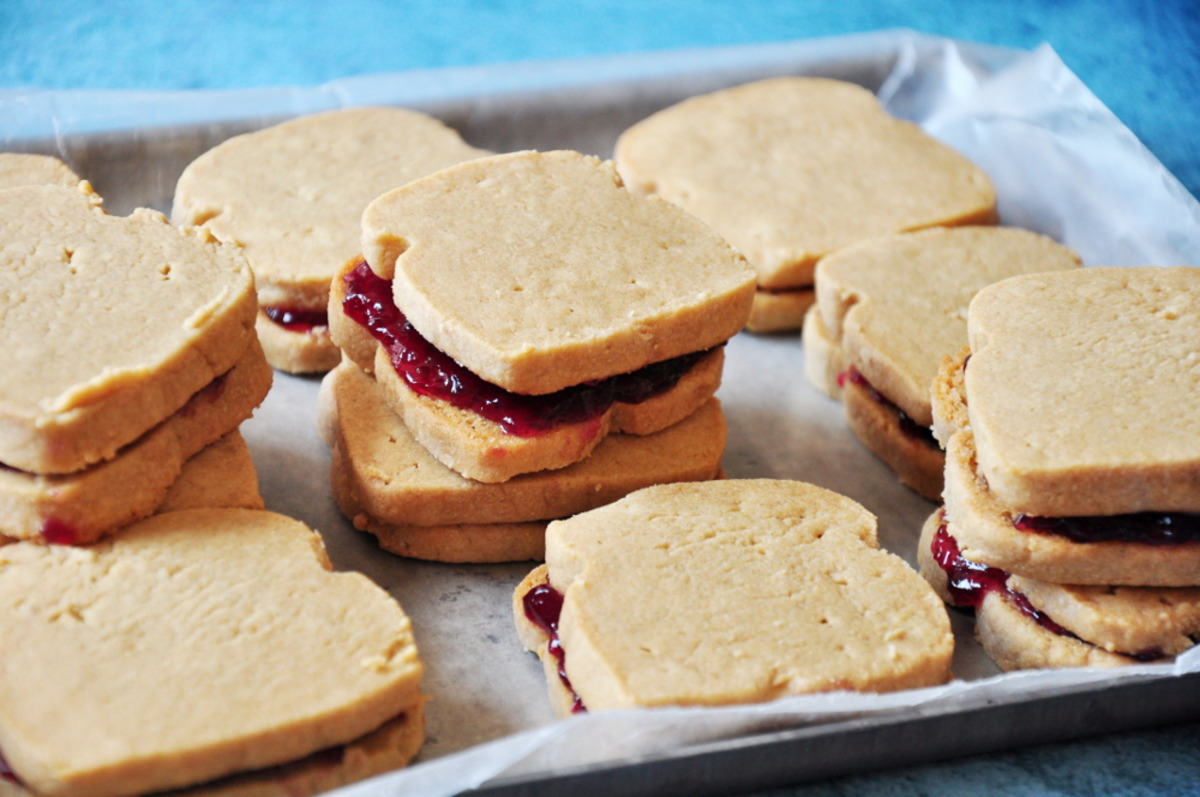 Ingredients
· 3/4 cup firmly packed light brown sugar
· 1/2 cup butter, soften
· 1/3 cup chunky peanut butter
· 1 large egg
· 1 teaspoon vanilla extract
· 1 1/2 cups unsifted all-purpose flour
· 1/4 teaspoon baking powder
· 1/8 teaspoon salt
· 2 tablespoons grape jelly
Instructions
Step 1
In medium-size bowl, with electric mixer on medium speed, beat brown sugar, butter & peanut butter until light & fluffy.
Step 2
Beat in egg & vanilla until well mixed.
Step 3
Reduce mixer speed to low; gradually beat in flour, baking powder & salt.
Step 4
Gather dough into a ball: form into a 12-inch long log, With fingers, press dough to resemble a loaf of bread by making top round & squaring off bottom.
Step 5
Wrap & refrigerate dough several hours or until firm enough to slice.
Step 6
Heat oven to 350*f.
Step 7
Lightly grease 2 baking sheets.
Step 8
With sharp knife, cut dough crosswise into 1/4- inch thick slices.
Step 9
Place slices, 1 inch apart, on greased baking sheet.
Step 10
If necessary, reshape cookie slices to resemble a slice of bread.
Step 11
Bake cookies 8-10 minutes ot until just golden brown at edges.
Step 12
Cool cookies 2 minutes on baking sheet, than transfer to wire rack & cool completely When cookies are cool, turn half side down on work surface.
Step 13
Spoon 1/4 teaspoon grape jelly on each and top with another cookie, right side up.
Step 14
Gently press cookies together to spread jelly evenly.
Step 15
Store in airtight container.