Pumpkin Bread with Cream Cheese Swirl
Servings: 9
Author: Nealey Dozier
View Similar Recipes With: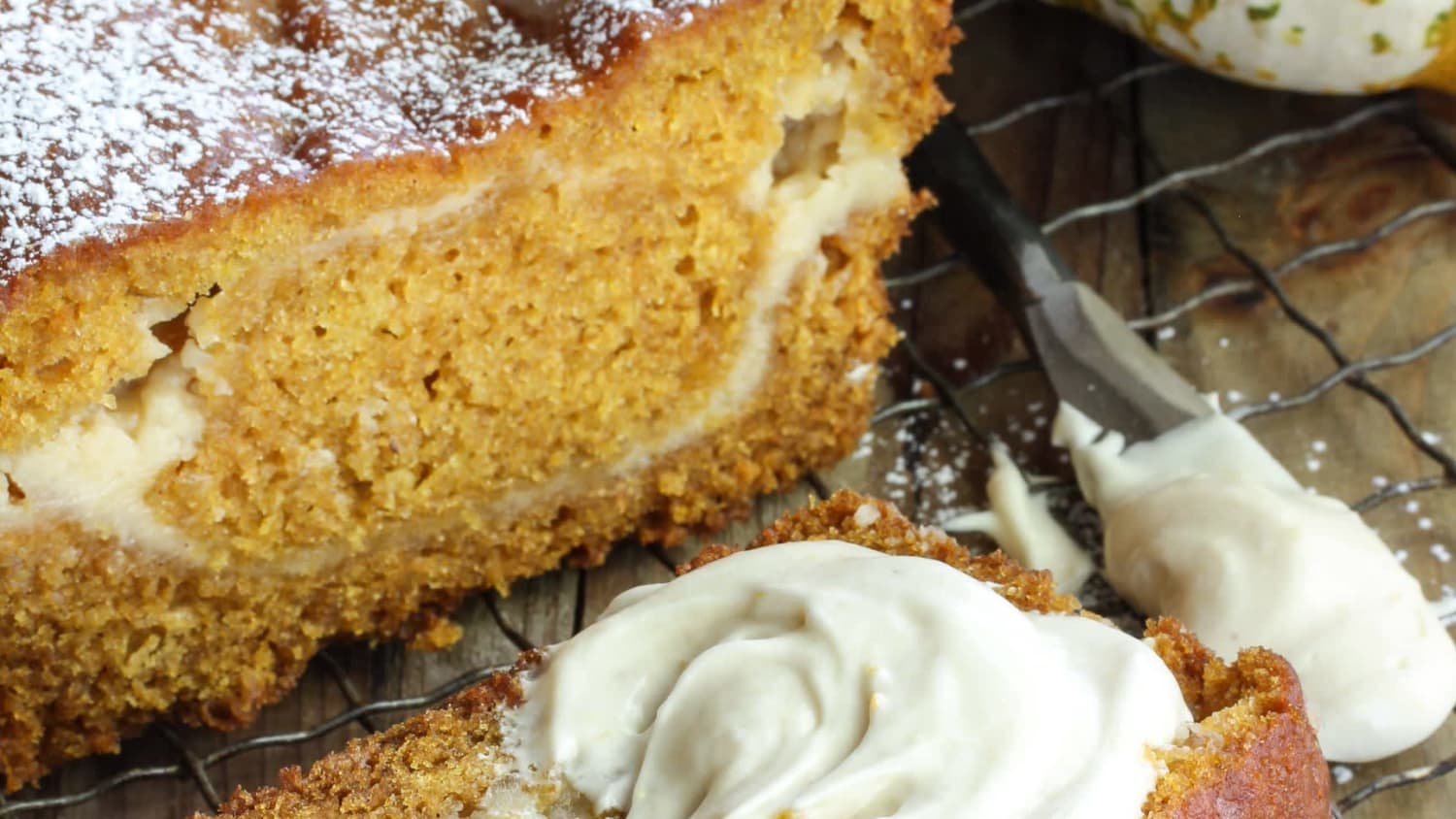 Ingredients
· 1 1/2 cups (7 ounces) all-purpose flour
· 1 teaspoon baking soda
· 1/2 teaspoon kosher salt
· 1/4 teaspoon ground cinnamon
· 1 large egg
· 1 cup (8 ounces) sugar
· 1/2 cup (4 ounces) canola oil
· 1 cup (8 1/2 ounces) pumpkin purée
· 2 tablespoons sour cream or plain Greek yogurt
· 1 tablespoon vanilla extract
· 4 ounces cream cheese, at room temperature
· 2 tablespoons unsalted butter, at room temperature
· 2 teaspoons vanilla extract
· 2 cups (8 ounces) powdered sugar
Instructions
Step 1
Preheat oven to 325°F. Line a 9x5-inch loaf pan with parchment paper so there is an overhang on each long side. Coat the parchment paper with baking spray or butter and flour.
Step 2
Whisk the flour, baking soda, salt, and cinnamon together in a medium or large bowl and set aside.
Step 3
Combine the egg and sugar in the bowl of a stand mixer fitted with the paddle attachment. Beat on medium speed for 5 minutes, until light and fluffy. Turn the speed down to low and, pouring very slowly, drizzle the oil down the side of the bowl. Add the pumpkin, sour cream, and vanilla, and mix until smooth. (Alternately, this can be done with an electric hand mixer.)
Step 4
Turn the mixer off. Add the flour mixture and fold in by hand until just combined. Transfer the mixture back to the bowl used for the flour, and set aside.
Step 5
Rinse out and dry the bowl of the stand mixer and the paddle attachment in order to make the filling. Combine the cream cheese, butter, vanilla, powdered sugar, and 1/4 cup of the pumpkin batter, and beat on medium speed until smooth and creamy, 2 to 3 minutes.
Step 6
Pour half the batter into the prepared loaf pan, spreading evenly. Spoon the cream cheese filling over the batter and smooth it out. Cover filling with remaining batter.Bake the pumpkin bread for 1 hour, or until the center springs back when pressed with your fingertip. (If your finger sinks, bake 10 to 15 minutes longer.) Let cool in the pan on a wire rack for 30 minutes, then pull the loaf out using the parchment paper "handles" to cool completely.
Step 7
The pumpkin bread can be stored tightly wrapped in plastic wrap for up to three days, or frozen for up to 2 weeks. Thaw overnight at room temperature before serving.