Prep Time: 30 minutes
Total Time: 40 minutes
Servings: 3
Cost: $7.87 /serving
Author: Lena Abraham
View Similar Recipes With: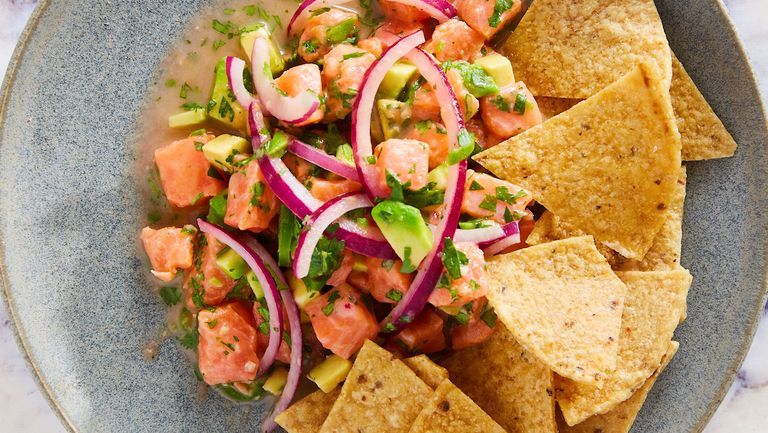 Ingredients
· 1 lb. sushi-grade or previously frozen salmon, defrosted, with skin removed
· Kosher salt
· 1/2 medium red onion
· 1/4 c. freshly chopped cilantro
· 1 lemon drop chili pepper, Serrano pepper, or jalapeño, thinly sliced
· 1/2 avocado
· 1/2 tsp. toasted sesame oil (optional)
· Corn chips, for serving
· 4 limes, juiced (about 2/3 cup)
· 1 naval orange, juiced (about 1/2 cup)
· 2 garlic cloves, smashed
· 2" piece of ginger, peeled and halved
· 5 cilantro stems
Instructions
Step 1
Cut fish into ½-inch cubes and place in a large glass bowl, reserving any oddly shaped, fatty, or dark pieces of fish for the tiger's milk. Season cubed fish with salt. Refrigerate while you prepare the onions and tiger's milk. Prepare onions: cut ½ onion in half, then thinly slice 1 half and place slices in a medium bowl. Add sliced pepper and cilantro to bowl with onions. Make tiger's milk: into a blender or food processor, combine reserved salmon (if using), remaining quarter red onion, lime juice, orange juice, garlic cloves, ginger, and cilantro stems. Pulse mixture 10 times in rapid succession, until solids are broken down but not completely pureed. (Alternatively, combine all ingredients in a bowl and let sit for 10 to 30 minutes.) Assemble ceviche: cut ½ avocado into small ¼" cubes and add to bowl of salmon, along with onions, peppers, and cilantro. Strain tiger's milk over salmon and stir to combine. Let ceviche marinate for 10 minutes, then serve with corn chips. It is best to eat freshly made ceviche within the hour it is prepared, to avoid fish that is "overcooked" and soft.