Slow Cooker Four Cheese Mac and Cheese
Total Time: yield 8-10 servings : 20 minutes time: 2 hours 35 minutestotal time: 2 hours 55 minutes
Prep Time: 20 minutes
Cook Time: 2 hours 35 minutes
Servings: 10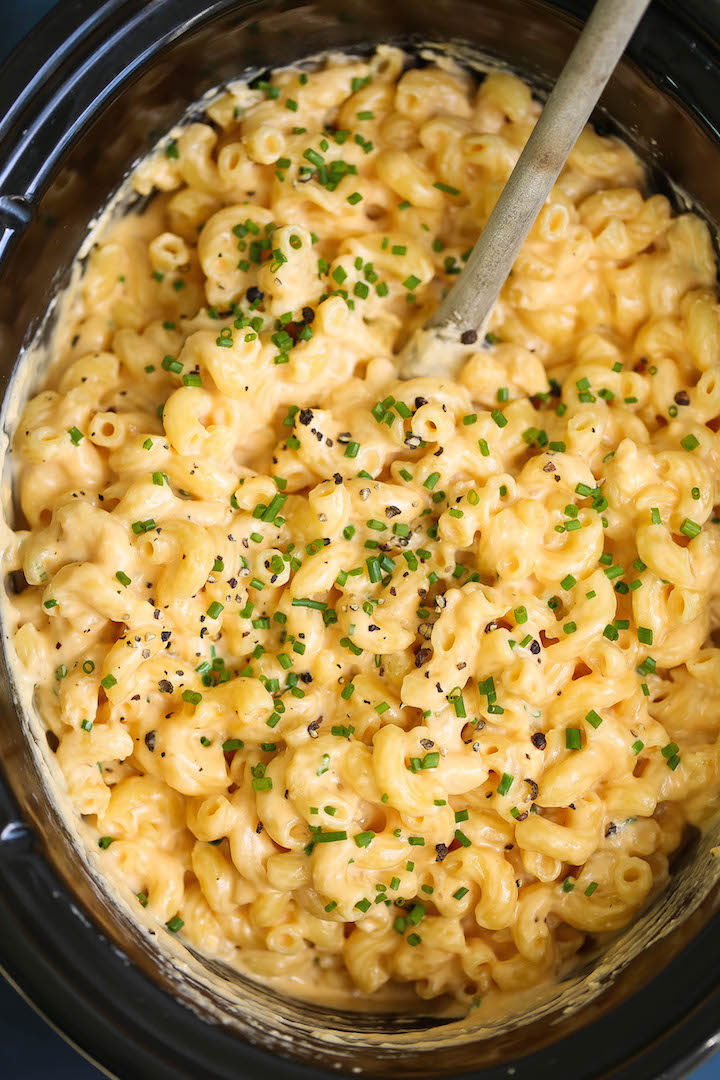 Ingredients
· 1 pound medium elbow macaroni
· 2 cups shredded sharp cheddar cheese, divided
· 2 cups grated American cheese
· 4 ounces cream cheese, cubed
· 1/2 cup freshly grated Parmesan
· 3 cups whole milk
· 1 (12-ounce) can evaporated milk
· 2 teaspoons Dijon mustard
· 1/2 teaspoon paprika
· 1/2 teaspoon onion powder
· Kosher salt and freshly ground black pepper, to taste
· 2 tablespoons chopped fresh chives
·
Instructions
Step 1
Step 2
Place macaroni, 1 cup cheddar cheese, American cheese, cream cheese and Parmesan into a 4-qt slow cooker.
Step 3
Stir in milk, evaporated milk, Dijon, paprika and onion powder, making sure the macaroni is submerged as much as possible; season with salt and pepper, to taste.
Step 4
Cover and cook on low heat for 90 minutes to 2 hours and 30 minutes, stirring every hour until tender and creamy.* Uncover and stir in remaining 1 cup cheddar cheese until melted, about 2-3 minutes. If the mixture is too thick, add more milk as needed.
Step 5
Serve immediately, garnished with chives, if desired.
Step 6
Step 7