Crockpot Pepper Steak Recipe
Prep Time: 10 minutes
Cook Time: 300 minutes
Total Time: 310 minutes
Servings: 6
Cost: $3.21 /serving
Author: Carrie
View Similar Recipes With: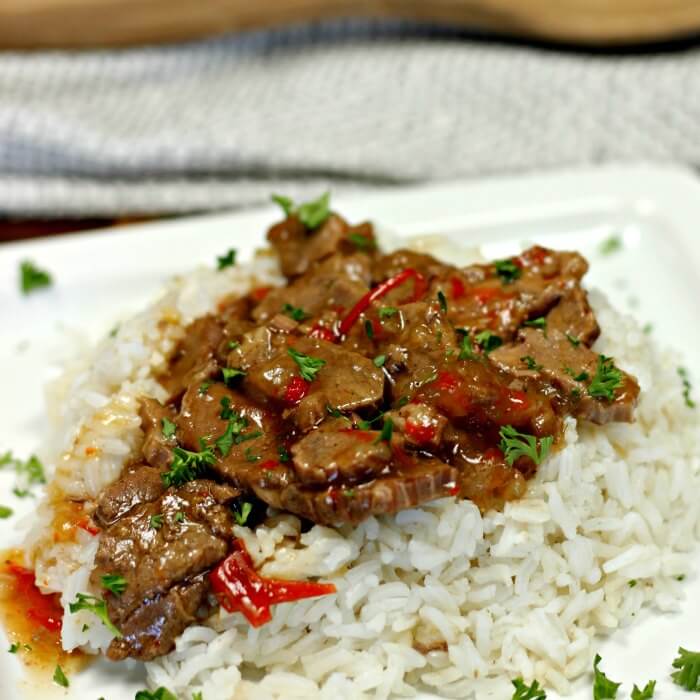 Ingredients
· 1.5 lbs of beef strips (I used thinly sliced round steaks and sliced them into strips)
· 1 green bell pepper (sliced thick)
· 1 red bell pepper (sliced thick)
· 1/2 onion sliced thick
· 1 1/2 cups of beef stock
· 3 tablespoons of soy sauce
· 1/4 teaspoon ground ginger
· 1/4 teaspoon garlic powder
· 1/4 teaspoon black pepper
· 2 teaspoon brown sugar
Instructions
Step 1
Place the beef, bell peppers and onions in a slow cooker.
Step 2
Add the seasonings, brown sugar, and soy sauce over the beef and peppers.
Step 3
Pour the beef stock in the crock pot.
Step 4
Stir to combine.
Step 5
Cover and cook on low for 5 hours or until the steak is cooked through.
Step 6
Serve over a bed of white rice.
Step 7
Note: if you could like your sauce to be thicker. One hour before dinner is ready - In a small bowl combine 1 tablespoon of cornstarch with a 1/4 cup of cold water. Mix together. Stir in to the crock pot. Turn the crock pot to high and let the sauce thicken for the last hour of cook time.