Easy BBQ Chicken Sandwiches
Total Time: 25 minutes
Prep Time: 10 minutes
Cook Time: 15 minutes
Servings: 4
Author: Beth - Budget Bytes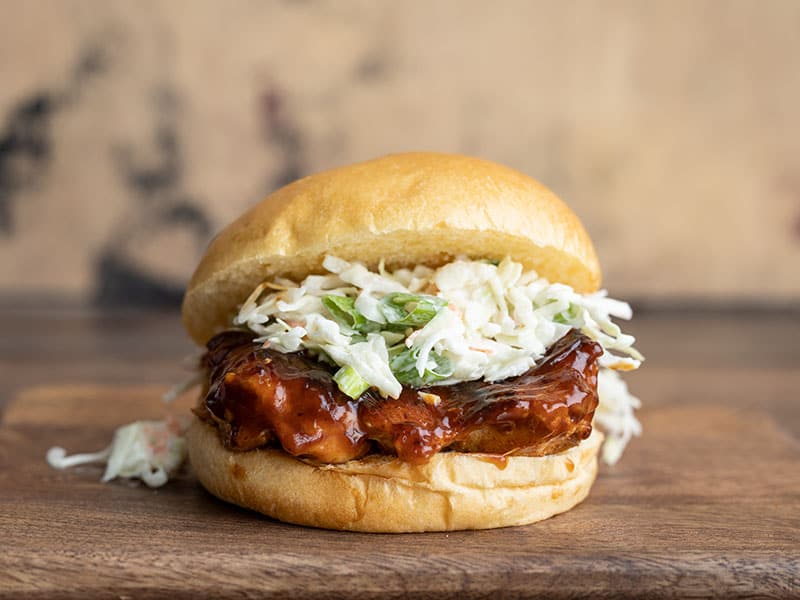 Ingredients
· 1 tsp smoked paprika ($0.10)
· 1/2 tsp garlic powder ($0.05)
· 1/4 tsp salt ($0.02)
· 1/4 tsp pepper ($0.02)
· 1 lb. boneless, skinless chicken thighs ($2.99)
· 1 Tbsp cooking oil ($0.04)
· 1/4 cup BBQ sauce ($0.11)
· 7 oz. coleslaw mix* ($0.65)
· 2 green onions, sliced ($0.20)
· 1/4 cup ranch dressing ($0.37)
· 4 buns ($2.49)
Instructions
Step 1
Combine the smoked paprika, garlic, powder, salt, and pepper in a small bowl. Cut any large chicken thighs in half to make them more sandwich-sized (you'll want four pieces total). Season both sides of the chicken thighs with the prepared spice mix.
Step 2
Heat the cooking oil in a large skillet over medium heat. Once hot, swirl to coat the surface of the skillet. Add the seasoned chicken and cook for 5-7 minutes on each side, or until the chicken thighs are well browned and cooked through.
Step 3
Remove the chicken from the heat and brush BBQ sauce over both sides of each piece.
Step 4
Add the coleslaw mix, sliced green onions, and ranch dressing to a bowl. Stir until everything is combined and evenly coated in dressing.
Step 5
To build the sandwiches, place one piece of BBQ chicken on each bun and top with a heaping scoop of the ranch slaw. Serve immediately.