Easy Creamy Homemade Potato Soup
Total Time: 40 minutes
Prep Time: 10 minutes
Cook Time: 30 minutes
Servings: 5.5
Price per serving: $3.50
Author: Adam and Joanne Gallagher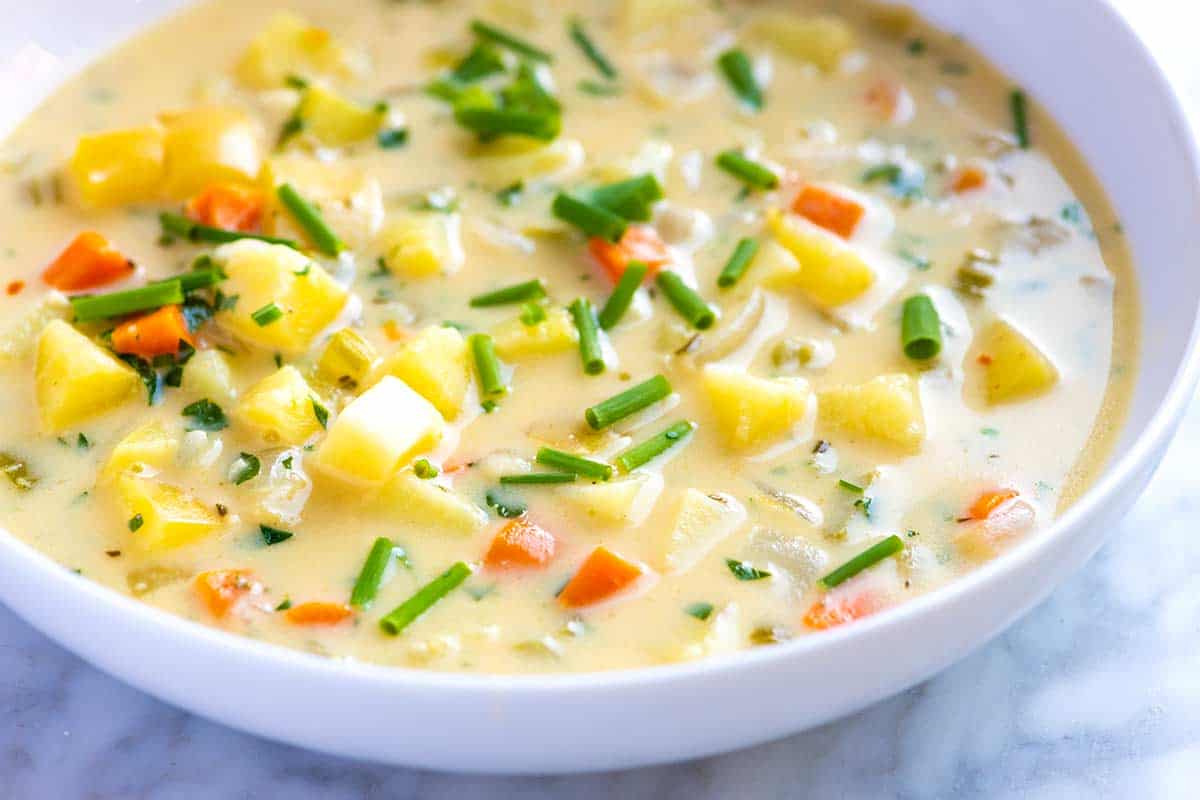 Ingredients
· 3 tablespoons butter or olive oil
· 2 cups chopped onion (1 medium)
· 1 cup chopped carrot (2 medium)
· 1 cup chopped celery (2 to 3 stalks)
· 1 tablespoon minced garlic (3 cloves)
· 1 teaspoon chopped fresh rosemary or 1/4 teaspoon dried rosemary
· 1/4 teaspoon crushed red pepper flakes
· 3 tablespoons all-purpose flour
· 4 cups stock or broth, see our chicken stock or vegetable broth
· 4 cups chopped potatoes, cubed (1 1/2 pounds or 3 to 4 medium)
· 1 bay leaf
· Salt and fresh ground black pepper
· 1/4 cup cream, half and half, sour cream or plain yogurt
· 1 cup (2 ounces) shredded cheese like sharp cheddar or gruyere, optional
· For serving (optional): Chopped parsley, chives or scallions, extra shredded cheese, sour cream, crumbled cooked bacon, hot sauce
Instructions
Step 1
In a large heavy-bottomed pot (like a Dutch oven), melt the butter over medium heat. When the butter is melted, stir in the onions, carrots, and celery. Cook, stirring occasionally until they begin to soften; 5 to 6 minutes.
Step 2
Stir in the garlic, rosemary, red pepper flakes, 1/2 teaspoon of salt, and 1/4 teaspoon of black pepper, and then cook, stirring everything around the pot, for 30 seconds.
Step 3
Scatter the flour over the vegetables and cook, stirring, until it looks medium blonde in color; about 1 minute. It will smell toasty, like browned butter.
Step 4
Slowly whisk in 2 cups of the stock, making sure there aren't any lumps of flour. It will be thick.
Step 5
Pour in the remaining stock and whisk until blended. Increase the heat and bring the soup to a boil then reduce to a simmer.
Step 6
Add the potatoes and bay leaf, and then cook, partially covered, until the potatoes are fork tender; about 20 minutes.
Step 7
Turn the heat to low, remove the bay leaf, and then stir in the cream and cheese.
Step 8
Taste for seasoning then adjust with more salt and pepper as needed. Serve with fresh herbs on top or for a thick and blended soup, use a potato masher to mash or an immersion blender to blend about half of the potatoes in the soup (this is Joanne's favorite way to serve the soup).