Easy Gluten-Free Chocolate Chip Cookies
Total Time: 25 minutes
Prep Time: 15 minutes
Cook Time: 10 minutes
Servings: 22
Price per serving: $1.17
Author: GlutenFreeBaking.com Elizabeth Barbone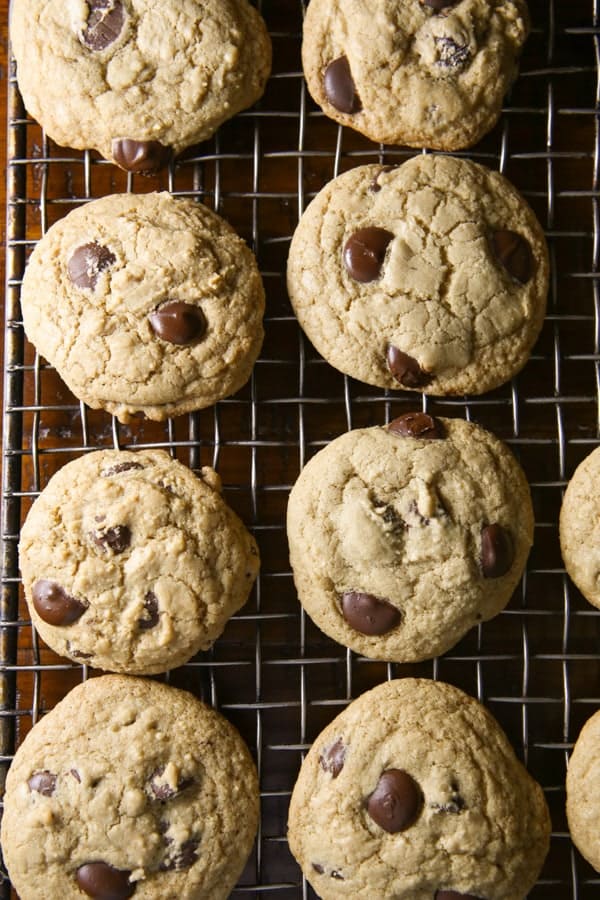 Ingredients
· 1 1/4 cups Bob's Red Mill 1-to-1 Gluten-Free Baking Flour ((5 ounces; 142 grams) )
· 1/2 teaspoon baking soda
· 1/4 teaspoon salt
· 6 tablespoons butter, melted and cooled slightly ((3 ounces; 85 grams))
· 1/2 cup packed dark brown sugar ((3 3/4 ounces; 106 grams) )
· 1/4 cup granulated sugar ((1 3/4 ounces; 50 grams))
· 1 teaspoon vanilla extract
· 1 large egg ((approx. 2 ounces; 50 grams out of shell))
· 1 cup chocolate chips ((6 ounces; 170 grams))
Instructions
Step 1
Adjust oven rack to 350 degrees F. Line two baking sheets with parchment paper.
Step 2
Whisk together the flour, baking soda, and salt together in a medium bowl.
Step 3
In a large bowl, combine the melted butter, dark brown sugar, granulated sugar, and vanilla extract. Mix until smooth.
Step 4
Add the eggs, one at a time, and mix until combined. The mixture should look like thick caramel sauce. Stop the mixer and add the flour. Mix on medium speed until a thick dough forms. Add the chocolate chips and stir until incorporated.
Step 5
Drop dough, about two tablespoons each, onto prepared cookie sheet. (A cookie scoop makes this easy.) Space cookies about 2 inches apart--you don't want more than 9 cookies on the sheet.
Step 6
Bake until golden brown, about 10 minutes. Rotate the baking sheets halfway through baking.
Step 7
Allow the cookies to cool for five minutes and then transfer to a wire rack to cool.
Step 8
Repeat with remaining dough, allowing cookie sheet to cool between each batch.