Easy-Peasy Potato Curry Recipe by Tasty
Servings: 4
Author: Gwenaelle Le Cochennec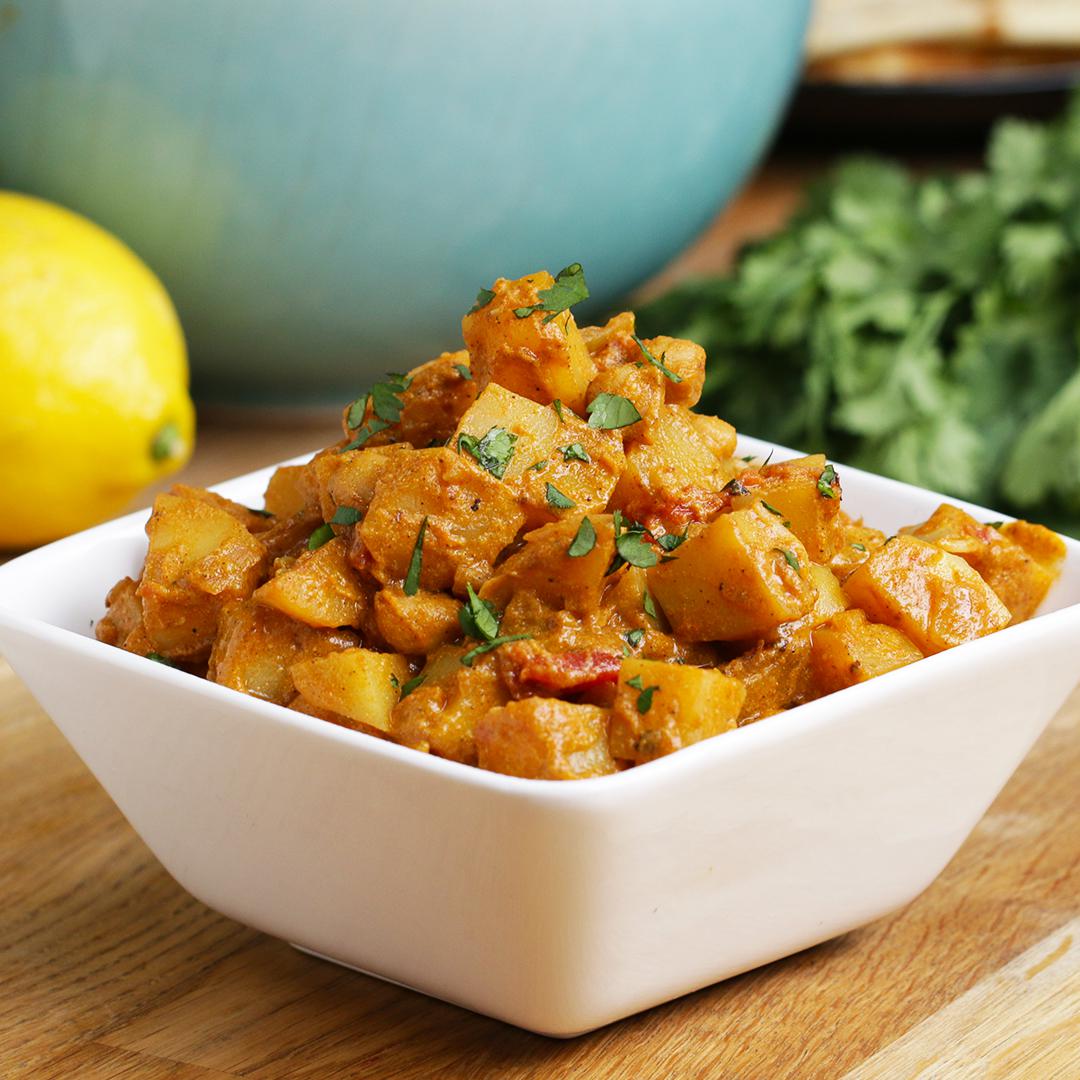 Ingredients
· 2 tablespoons vegetable oil
· 1 medium yellow onion, diced
· 4 cloves garlic, minced
· 4 teaspoons curry powder
· 1 ½ teaspoons paprika
· 1 teaspoon cayenne
· 2 teaspoons cumin powder
· ½ teaspoon allspice
· 2 teaspoons fresh ginger, minced
· ½ teaspoon black pepper
· 2 lb potato, peeled and cubed
· 15 oz chickpeas, 1 can, drained
· 1 cup vegetable broth
· 1 tablespoon lemon juice
· 14 oz diced tomato, 1 can
· 14 oz coconut milk, 1 can
· rice, cooked, for serving
· naan bread, for serving
· fresh cilantro, chopped, for garnish
Instructions
Step 1
Heat the oil in a large pot over medium heat until shimmering. Add the onion and saute for about 3 minutes, until translucent.
Step 2
Add the garlic and saute for about 2 minutes, until fragrant.
Step 3
Add the curry powder, paprika, cayenne, cumin, allspice, ginger, salt, and pepper. Stir and cook for about 2 minutes until the spices are fragrant.
Step 4
Add the potatoes and mix well until well-coated in spices.
Step 5
Add the chickpeas and stir to incorporate.
Step 6
Add the broth, lemon juice, and tomatoes and stir, then pour in the coconut milk and stir to combine.
Step 7
Increase the heat to high and bring the mixture to a simmer. Once bubbling, reduce the heat to medium and cook for 15-20 minutes, until the potatoes are tender and easily pierced with a fork.
Step 8
Serve with cooked rice and naan and garnish with fresh cilantro.
Step 9
Enjoy!