Instant Pot Pork Chops Recipe with Creamy Ranch Sauce
Total Time: 30 minutes
Prep Time: 10 minutes
Cook Time: 20 minutes
Servings: 4
Author: Katerina | Diethood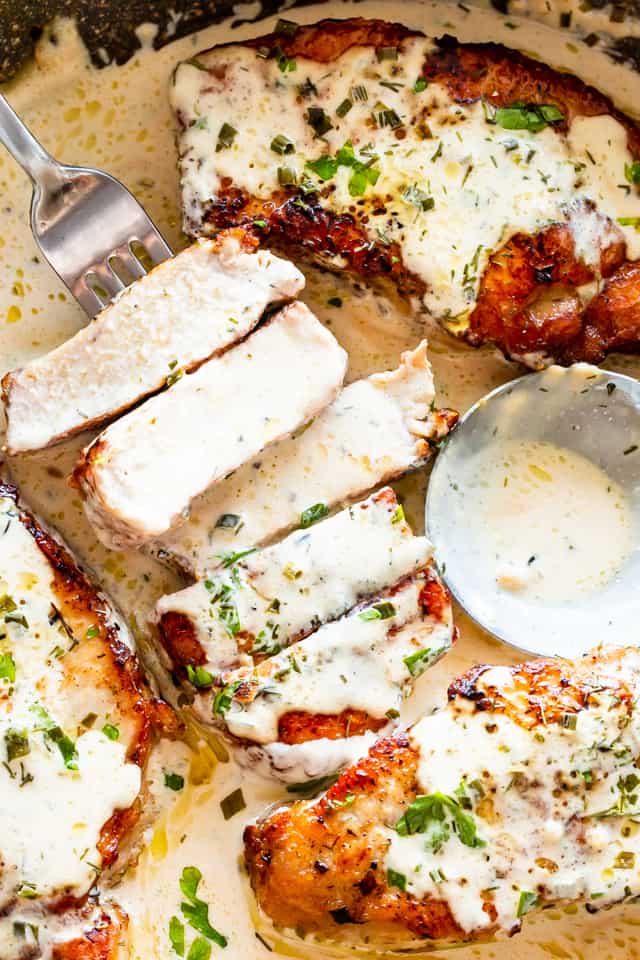 Ingredients
· 1/2 teaspoon garlic powder
· 1/2 teaspoon onion powder
· 3/4 teaspoon dried dill weed
· 3/4 teaspoon dried chives
· salt and fresh ground pepper, (to taste)
· 1 tablespoon olive oil
· 2 tablespoons unsalted butter
· 4 (about 1 pound) boneless pork chops, (1-inch thick)
· 1 teaspoon ranch seasoning mix, (or to taste)
· 4 cloves garlic, (minced)
· 1-1/4 cup low sodium chicken broth
· 1 cup heavy cream, (you can also use Half & Half or Evaporated Milk)
· 2 teaspoons Ranch Seasoning Mix
· dried dill weed and dried chives, (for garnish)
Instructions
Step 1
Prepare Ranch Seasoning Mix by combining all ingredients together in a small mixing bowl. (Store-bought Ranch Seasoning Mix will also work)
Step 2
Grease pork chops with cooking spray.
Step 3
Measure out 1 teaspoon of the prepared ranch seasoning mix (or to taste) and season the pork chops.
Step 4
Set the Instant Pot to "Sauté"; add olive oil and butter.
Step 5
Once the butter is melted and hot, sear chops for about 2 minutes per side, or until golden brown. Sear 2 pork chops at a time.
Step 6
Remove pork chops from Instant Pot; set aside.
Step 7
Add minced garlic to the pot and cook for 30 seconds.
Step 8
Pour 1/4 cup chicken broth and use a wooden spoon to scrape up the bits off the bottom of the pot.
Step 9
Stir in remaining chicken broth and add pork chops to the pot in the liquid.
Step 10
Seal the lid, and cook on "Manual" at HIGH PRESSURE for 7 minutes.
Step 11
Do a Natural Pressure Release for 12 minutes. After 12 minutes, do a Quick Release. Pork Chops are done when internal temperature reaches 145F.
Step 12
Open the lid and remove pork chops to a plate; keep them covered.
Step 13
Set the Instant Pot to "Sauté"; bring remaining mixture to a simmer.
Step 14
Whisk in heavy cream.
Step 15
Add in 2 teaspoons of Ranch Seasoning Mix. You can use less or more – adjust to your taste. Start with one teaspoon, taste, and see if you want more.
Step 16
Bring to a gentle simmer for 3 to 4 minutes, or until sauce has slightly thickened.
Step 17
Add the chops and released juices back into the sauce; allow to simmer for 1 minute, or until heated through.
Step 18
Garnish with dried herbs and serve.