Prep Time: 20 minutes
Cook Time: 8 minutes
Total Time: 1468 minutes
Servings: 1
Cost: $14.65 /serving
Author: Rosemary Molloy
View Similar recipes with: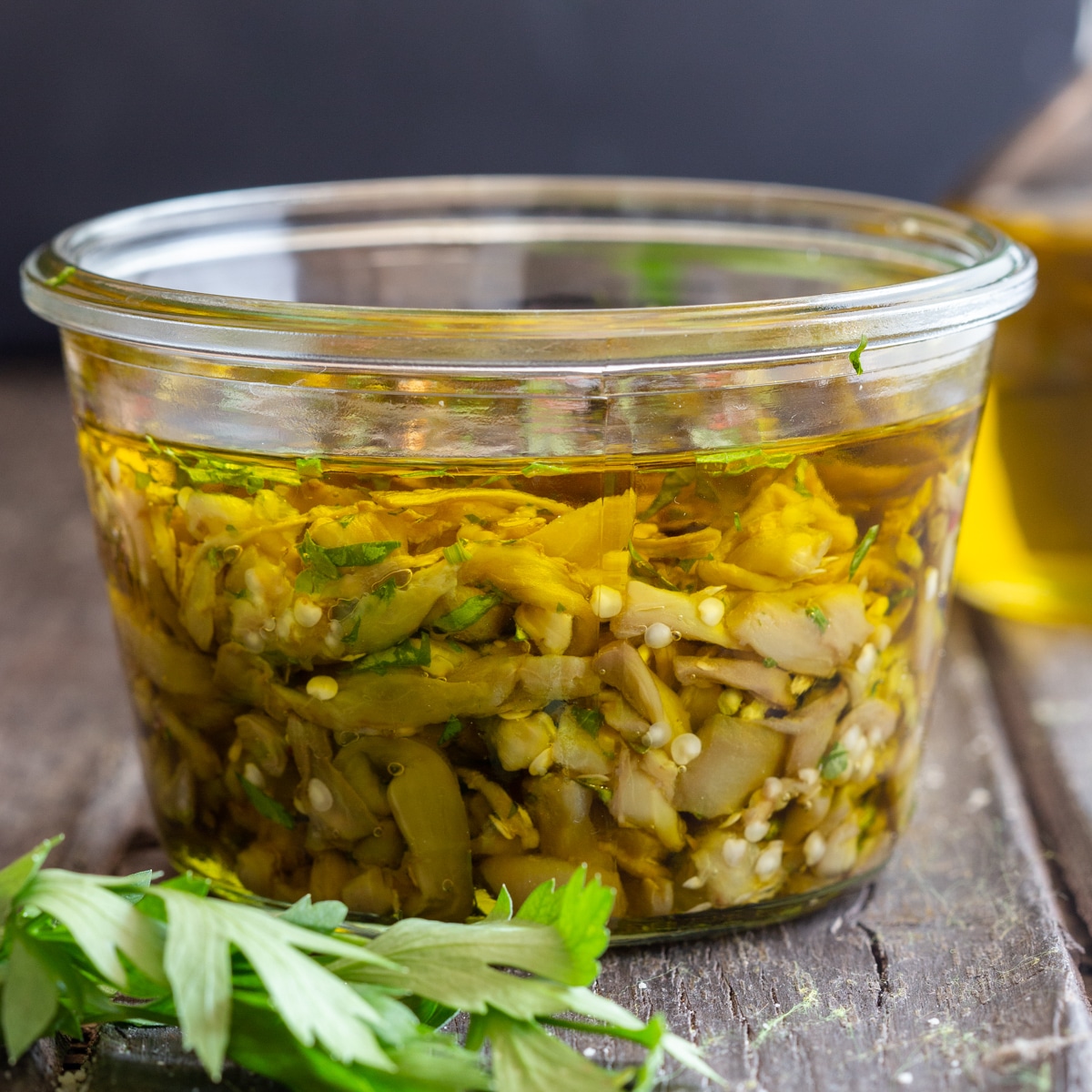 Ingredients
· 3 medium Italian eggplants* (see notes) (6-7 inches) ((16-17 cm))
· 3 teaspoons salt
· 5 cups water
· 2 cups white wine vinegar
· 1-2 cloves garlic (minced)
· 1 tablespoon fresh Italian parsley (minced)
· 1-2 dashes hot pepper flakes (if desired)
· olive oil (enough to completely cover the eggplant)
Instructions
Step 1
Peel and thinly slice the eggplant, I cut it crosswise in three, then thinly sliced them (see photos), do them one at a time, after you have done one, place the cut eggplant in a bowl and toss with 1 teaspoon of salt, continue with each eggplant. Cover the bowl and let sit for 8 hours.
Step 2
After the 8 hours, drain the liquid (but do not rinse the eggplant) and squeeze out as much excess moisture as possible.
Step 3
In a big pot bring to a boil the water and white wine vinegar, add the eggplant and boil for about 7-10 minutes or until tender. Taste one to make sure it is tender.
Step 4
Drain the eggplant and again wring out excess moisture. Place the eggplant in a large bowl and toss with the spices. Spoon into the sterilized jars , leaving at least 3/4 inch of space, then top with oil.  Make sure that the eggplant is completely covered with oil before closing the jar. Let sit at least 24 hours before serving. Enjoy!