Loaded Potato Pasta Salad
Prep Time: 15 minutes
Cook Time: 20 minutes
Total Time: 35 minutes
Servings: 7
Cost: $2.55 /serving
Author: Food.com
View Similar Recipes With: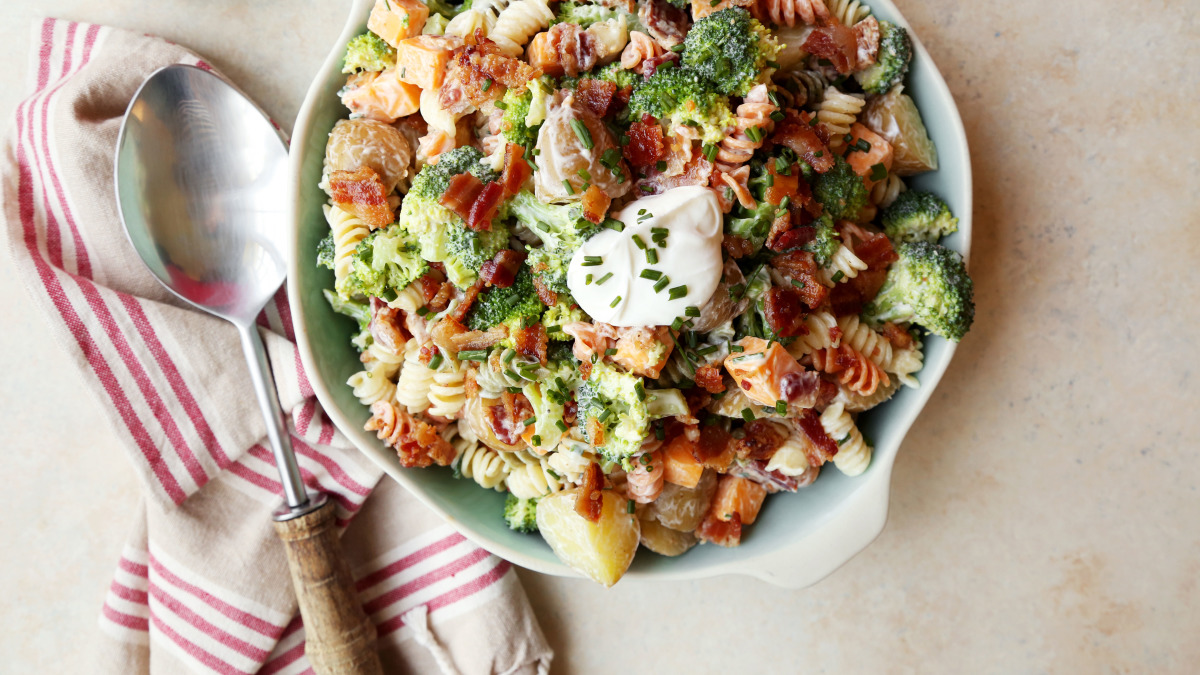 Ingredients
· 2 lbs baby potatoes
· 8 sliced bacon, diced
· 1/2 lb tri color rotini pasta, cooked according to package directions and cooled
· 2 cups broccoli florets, steamed
· 1 cup cubed sharp cheddar cheese, plus 1/2 cup
· 4 tablespoons chopped chives, divided
· 1/2 cup sour cream, plus more for topping
· 1/2 cup mayonnaise
· 1/3 cup buttermilk
· 2 tablespoons apple cider vinegar
· 2 teaspoons sugar
· kosher salt
· ground black pepper
Instructions
Step 1
Equipment: Large mixing bowl, Small bowl, whisk.
Step 2
Place potatoes in a medium pot and cover with water. Bring to a boil over medium high heat, then reduce to a simmer and cook until tender, about 12-15 minutes. Drain potatoes, cut into quarters and place in a large mixing bowl.
Step 3
Cook bacon in a medium skillet over medium heat, stirring occasionally, until crisp. Drain onto a towel-lined plate. Transfer half of bacon to the bowl with potatoes and reserve the other half to garnish the final salad. Add cooked pasta, broccoli, 1 cup cubed cheddar cheese and 2 tablespoons chopped chives to the bowl and toss to combine.
Step 4
In a medium bowl, whisk to combine sour cream, mayonnaise, buttermilk, apple cider vinegar, sugar and salt and pepper to taste. Pour over salad and toss to combine. Season to taste with salt and pepper and transfer to serving bowl. Garnish with remaining bacon, cheese, a dollop of sour cream and sprinkle of chives.