Low FODMAP Sheet Pan Nachos
Total Time: 20 minutes
Prep Time: 10 minutes
Cook Time: 10 minutes
Servings: 8
Author: Em Schwartz, MS, RDN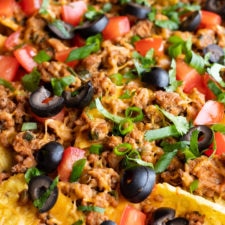 Ingredients
· 2 Tbsp. garlic-infused olive oil
· ½ cup finely chopped leek leaves (green tops only)
· 1 Tbsp. minced jalapeno (optional)
· 1 (16 oz.) package ground turkey (or beef)
· 1 Tbsp. low FODMAP taco seasoning (or to taste)
· 1 (11 oz.) bag corn tortilla chips
· ⅔ cup shredded cheddar cheese (or dairy-free cheese)
· 1 medium tomato, seeded and diced
· ⅓ cup sliced green onion (green parts only)
· ⅓ cup sliced black olives
· 1-2 Tbsp. finely chopped cilantro
· Fody Foods Low FODMAP Salsa
· Fody Foods Low FODMAP Taco Sauce
Instructions
Step 1
Preheat oven to 400°F.
Step 2
Heat olive oil in a large skillet over medium-high heat. Add leek leaves and optional jalapeno. Saute until leek leaves are bright green, fragrant, and soft. Add ground turkey and brown, breaking apart into crumbles, until cooked. Once cooked, add taco seasoning, stir mixture, and adjust seasoning to taste. (If you're using homemade low FODMAP taco seasoning, you may want to add a little salt here.) Remove skillet from heat and set aside.
Step 3
Place tortilla chips onto a rimmed baking sheet and spread into an even layer. Top with cooked turkey mixture and sprinkle evenly with cheese. Bake for 5 minutes.
Step 4
Remove pan from oven. Top with your favorite optional toppings and serve warm.