Maple Scones with Pecans
Total Time: 30 minutes
Prep Time: 15 minutes
Cook Time: 15 minutes
Servings: 8
Price per serving: $5.79
Author: Tawnie Graham of Kroll's Korner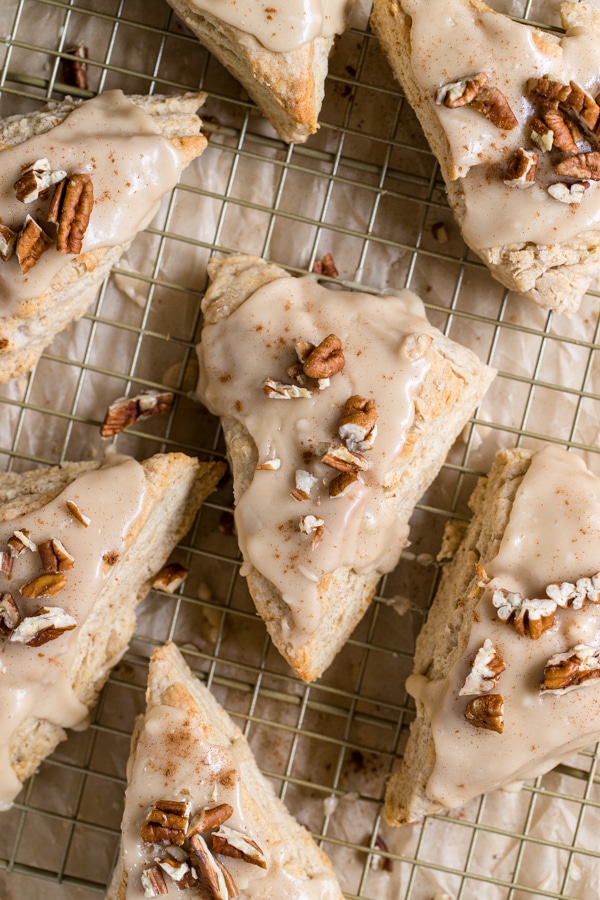 Ingredients
· 2 cups All-Purpose flour
· 2 1/2 tsp. baking powder
· 1/2 tsp. salt
· 1/4 tsp. cinnamon
· 8 Tbsp. cold, unsalted butter (1 stick)
· 1/2 cup heavy cream, cold
· 1/4 cup brown sugar, packed
· 1 large egg
· 1 tsp. vanilla extract
· 1/3 cup maple syrup, pure
· 2 Tbsp. butter
· 1 1/4 cup confectioners sugar
· 1 tsp. vanilla
· 1/3 cup chopped pecans (for garnish on top of glaze)
Instructions
Step 1
Preheat the oven to 400°F. Line a baking sheet with parchment paper or a Silicone baking mat (like a Silpat)
Step 2
In a large bowl, whisk together the flour, baking powder, salt and cinnamon.
Step 3
Add the cubed, cold butter into the drying ingredients. Using a pastry cutter, cut butter into the flour until pea-sized coarse crumbs form.
Step 4
In medium sized bowl, whisk together the brown sugar, heavy cream, egg and vanilla.
Step 5
Add the wet ingredients into the dry ingredients.
Step 6
Combine using a wooden spoon or rubber spatula until slightly incorporated. Turn out dough onto a lightly floured surface and fold just until combined in a ball and flatten out and form into a circle.Dough may be a little sticky, use flour as needed (but not too much!)
Step 7
Shape the scones by cutting them into 8 triangles using a bench scraper.
Step 8
Place the scones on the prepared baking sheet and bake for 15-16 minutes or until lightly browned on top.
Step 9
Make the glaze: melt the butter in the maple syrup, either in the microwave or on the stove in a small saucepan. Add in the powdered sugar and vanilla extract, mix until smooth.
Step 10
Spread glaze on top of cooled scones and garnish with chopped pecans.
Step 11
Scones are best the day of, or store in the fridge for 2-3 days. Enjoy!