Total Time: 30 minutes
Prep Time: 15 minutes
Cook Time: 15 minutes
Servings: 8
Price per serving: $5.04
Author: Jonathan Melendez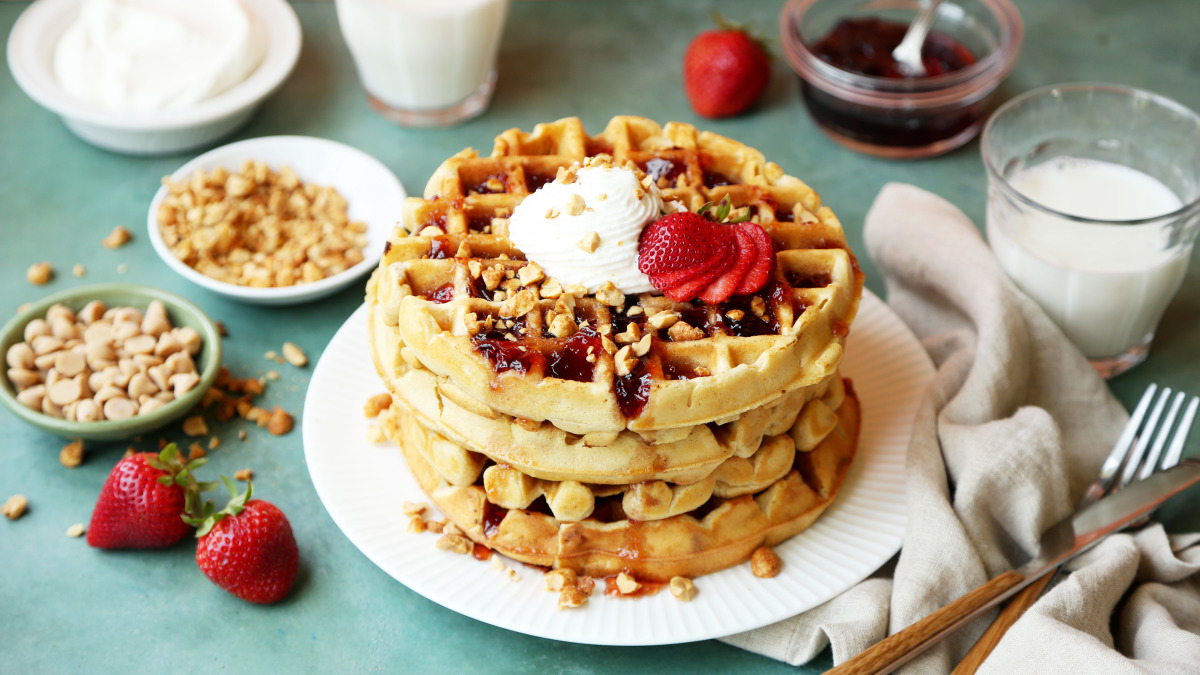 Ingredients
· 2 1/2 cups all-purpose flour
· 6 tablespoons sugar
· 2 tablespoons baking powder
· 1/2 teaspoon baking soda
· 1/2 teaspoon ground cinnamon
· 4 large eggs, separated
· 2 1/2 cups buttermilk
· 2/3 cup smooth peanut butter
· 6 tablespoons unsalted butter, melted
· 1 teaspoon vanilla extract
· 1/2 cup peanut butter chips
· 1/2 cup strawberry jelly
· 1/3 cup maple syrup
· 1/2 cup fresh whipped cream
· 8 ounces strawberries, stems removed and berries sliced
· 1/4 cup dry roasted salted peanut, chopped
Instructions
Step 1
Preheat a Belgian Waffle iron. In a large bowl, whisk together the flour, sugar, baking powder, baking soda and cinnamon.In a separate bowl, whisk to combine the egg yolks, buttermilk, peanut butter, melted butter and vanilla until smooth.
Step 2
Pour the wet ingredients into the dry ingredients and mix until just combined and no dry ingredients remain.
Step 3
In a stand mixer with the whisk attachment, or using a hand held mixer with whisk attachments, beat the egg whites on high until stiff peaks form. Fold the beaten egg whites into the batter and stir in the peanut butter chips.
Step 4
Pour about 1/3 cup of the batter into hot waffle iron. Close lid and cook until golden and crisp, about 5 minutes or according to equipment instructions. Transfer a wire rack and continue cooking the rest.
Step 5
In a small saucepan over medium heat, stir to combine strawberry jelly and maple syrup. Cook until warm, about 2-3 minutes.
Step 6
To serve, pour the warmed jelly over each waffle and dollop with fresh whipped cream. Top with sliced strawberries and a sprinkle of chopped nuts.