Pumpkin French Toast Casserole
Servings: 8
Author: Kelli Foster
View Similar Recipes With: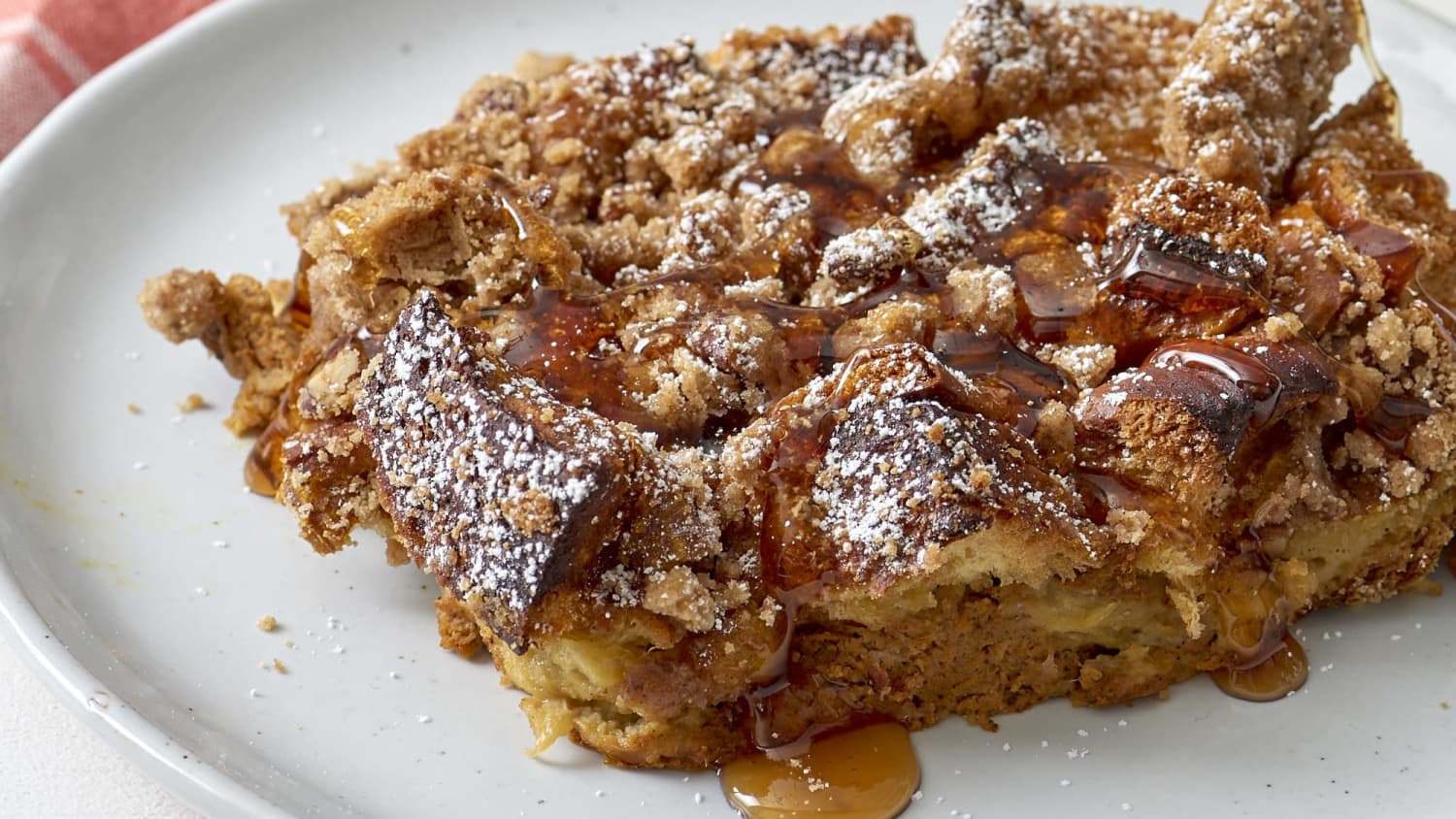 Ingredients
· Unsalted butter
· 1 day-old loaf brioche (about 1 pound), cut into 1-inch pieces
· 6 large eggs
· 1 cup half-and-half
· 1 cup pumpkin purée
· 3 tablespoons granulated sugar
· 1 tablespoon pumpkin pie spice
· 1 teaspoon vanilla extract
· 1/4 teaspoon salt
· Powdered sugar (optional)
· Maple syrup, for serving (optional)
· 1/2 cup all-purpose flour
· 1/3 cup packed brown sugar
· 1/3 cup chopped pecans
· 1/2 teaspoon ground cinnamon
· 1/2 teaspoon ground nutmeg
· Pinch salt
· 4 tablespoons (1/2 stick) unsalted butter, melted
Instructions
Step 1
Make the casserole: Generously coat a 9x13-inch baking dish with butter. Place the bread cubes evenly in the dish and set aside.
Step 2
Place the eggs in a large bowl and whisk to combine. Whisk in the half-and-half, pumpkin, sugar, pumpkin pie spice, vanilla, and salt. Evenly pour the custard over the bread. Use a spoon to push the bread down and stir so all the cubes are soaked through. Cover tightly with plastic wrap and refrigerate overnight.
Step 3
Arrange a rack in the middle of the oven and heat to 350°F. Remove the baking dish from the refrigerator and let it sit at room temperature while the oven is heating. Meanwhile, make the crumb topping.
Step 4
Make the crumb topping: Stir the flour, sugar, pecans, cinnamon, nutmeg, and salt together in a medium bowl. Drizzle with the butter and stir until big, slightly floury crumbs form.
Step 5
Sprinkle the crumb topping over the casserole. Bake uncovered until the casserole is set, puffed, and the top is golden-brown, 40 to 45 minutes.
Step 6
Remove the baking dish from the oven and let it cool for at least 5 minutes. Right before serving, dust with powdered sugar if desired. Serve warm with maple syrup if desired.