Prep Time: 5 minutes
Cook Time: 17 minutes
Servings: 4
Author: Sheela Prakash
View Similar Recipes With: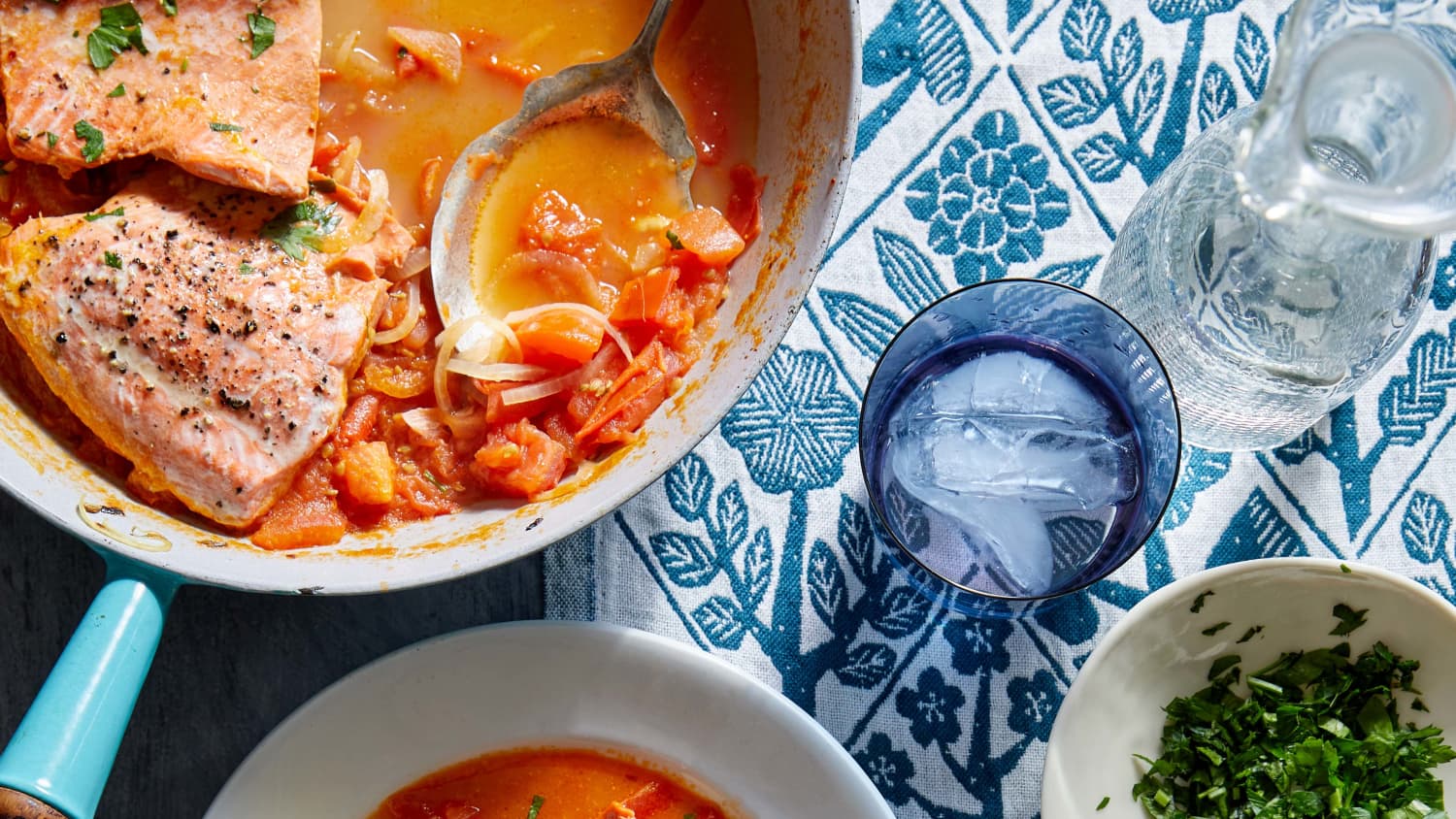 Ingredients
· 2 tablespoons extra-virgin olive oil
· 3 cloves garlic, thinly sliced
· 1/2 teaspoon fennel seeds
· 1/4 teaspoon red pepper flakes
· 1 1/2 pounds plum tomatoes, or Roma tomatoes, coarsely chopped into 1-inch pieces
· 1 small yellow onion, halved and thinly sliced
· Kosher salt
· 1 cup water
· 1/2 cup dry white wine
· 1 1/2 pounds salmon fillet, skinned and cut into 4 (6-ounce) pieces
· Coarsely chopped fresh parsley, for serving
· Good bread, for serving (optional)
Instructions
Step 1
Heat the olive oil in a large, high-side sauté pan or skillet over medium heat. Add the garlic, fennel seeds, and red pepper flakes and sauté until fragrant, about 1 minute. Add the tomatoes, onion, and 1/2 teaspoon of salt and sauté until the tomatoes break down to release their juices and the onion is softened and translucent, about 5 minutes.
Step 2
Add the water and wine and bring the liquid to a gentle simmer. Simmer, uncovered, until the liquid reduces by about one fourth, 5 to 10 minutes. Taste and season with additional salt, as needed.
Step 3
Season the salmon with salt and place it in the pan. Reduce the heat to medium-low, cover the pan, and simmer until the fish just begins to flake, 5 to 8 minutes, depending on the thickness of your fillets. An instant-read thermometer inserted into the middle of the thickest fillet should read 120°F to 130°F for medium-rare or 135°F to 145°F if you prefer your salmon more well done.
Step 4
Transfer the salmon fillets to 4 shallow bowls and spoon the broth around them. Sprinkle with parsley and serve with bread, if desired.