Cheesy Sausage Bruschetta Recipe
Prep Time: 15 minutes
Cook Time: 25 minutes
Total Time: 40 minutes
Servings: 6
Cost: $5.73 /serving
Author: Rosemary Molloy
View Similar Recipes With: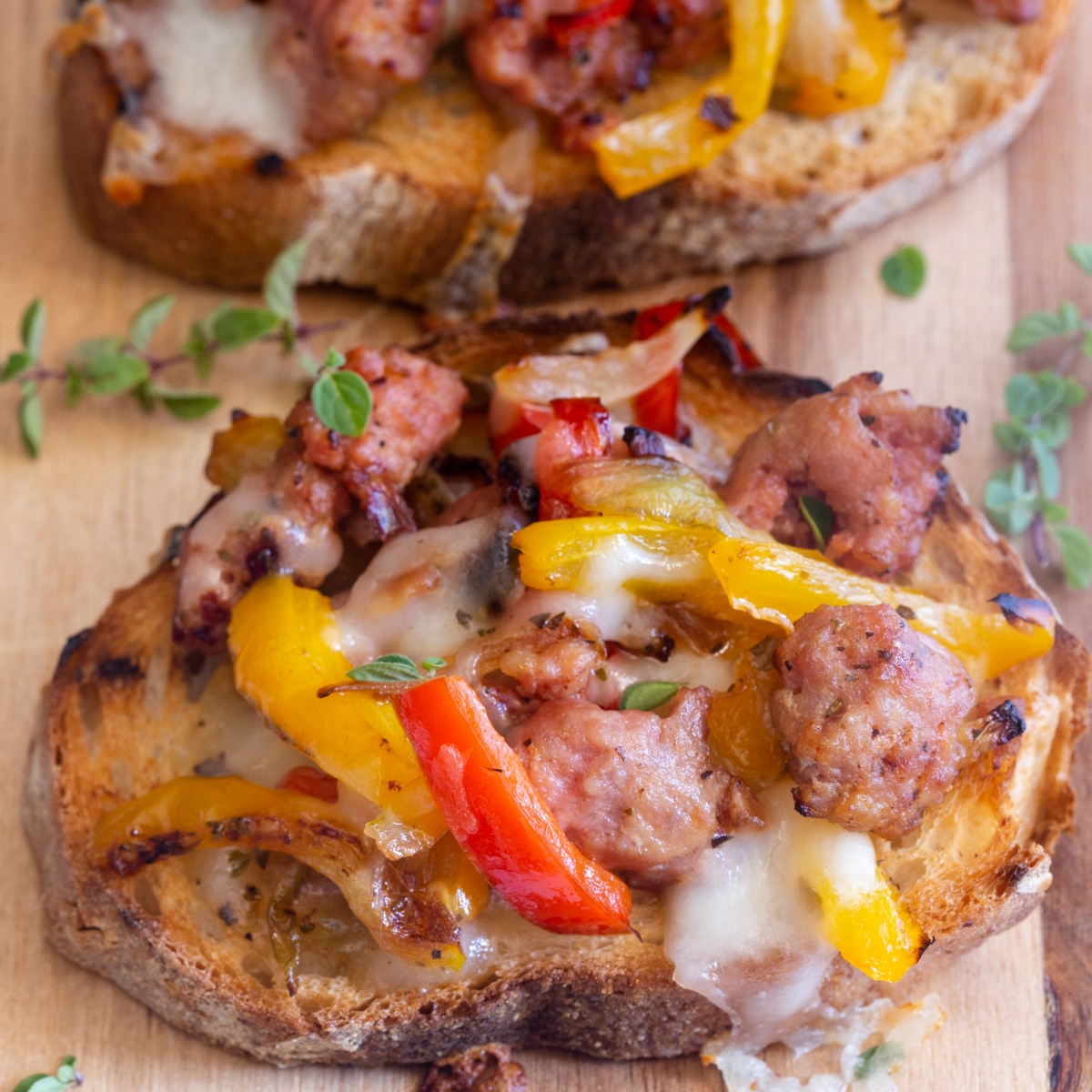 Ingredients
· 2 tablespoons olive oil
· 1-2 clove garlic (minced)
· 2 Italian sausages (casing removed and chopped into small bits)
· 1 cup bell pepper (thinly sliced / red, yellow or green or a combination) ((106 grams))
· 1/2 medium onion (thinly sliced)
· 1/2 teaspoon oregano
· 1-3 pinches salt
· 1-2 dashes black pepper or hot pepper flakes
· 1/2 cup cheese* (shredded)
· 6 slices grilled bread
Instructions
Step 1
Thinly slice the onion and bell pepper. Chop the sausage (without the casing) into small bits. In a medium to large frying pan add the olive oil, minced garlic, thinly sliced veggies, sausage and spices.
Step 2
Cook on medium heat (uncovered) until tender and sausage is browned, stirring occasionally. Once it is cooked, move the topping to a clean bowl to cool, then add the shredded cheese and stir to combine.
Step 3
Pre-heat oven to 375F (190C). Line a medium/large cookie sheet with parchment paper.
Step 4
Grill the sliced bread, either on a pan grill or bbq, place the slices on the prepared cookie sheet. Divide the topping between each slice of bread. I added a little extra cheese on top. Then place the sheet in the hot oven and bake for about 5 minutes or until the cheese has melted. Serve immediately. Enjoy!