Prep Time: 5 minutes
Cook Time: 30 minutes
Servings: 12
Cost: $1.15 /serving
Author: Beth Pierce
View Similar Recipes With: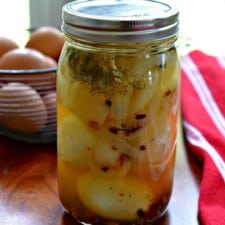 Ingredients
· 12 large eggs hard boiled and peeled
· 2 cups white vinegar
· 1 cup rice vinegar
· 1 cup water
· 2 tablespoons pickling spices
· 1 teaspoon dill seed
· 1 teaspoon coarse salt
· 10 black peppercorns
· 1 sweet onion thinly sliced
· 3 sprigs fresh dill
· 2 garlic cloves
Instructions
Step 1
Place the peeled eggs in mason jars or tall cover-able container.
Step 2
Add both vinegars, water, pickling spices, dill seed, salt, black peppercorns and onions in a sauce pan and bring to a low boil. Simmer for 5 minutes. Pour the hot liquid over the eggs.
Step 3
Put the garlic and dill sprigs in the jar with the eggs.  Close the jars, cool to room temperature, refrigerate for 3-4 days.