Prosciutto-Wrapped Chicken Kebabs
Prep Time: 20 minutes
Cook Time: 10 minutes
Total Time: 30 minutes
Servings: 4
View Similar Recipes With: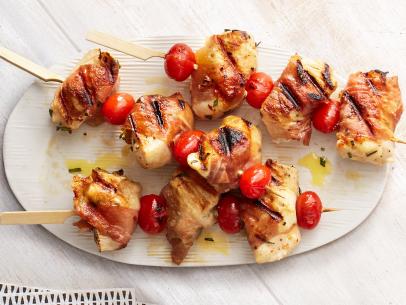 Ingredients
· Vegetable oil, for the grill
· 2 pounds skinless, boneless chicken breasts, cut into 24 pieces (about 1 1/2 inches each)
· 1 tablespoon extra-virgin olive oil
· 1 tablespoon white or red wine vinegar
· 1 teaspoon chopped fresh rosemary
· 1 clove garlic, grated
· 1/4 teaspoon red pepper flakes
· Pinch of kosher salt
· 4 ounces fontina cheese, cut into 24 cubes (about 1/2 inch each)
· 24 thin slices prosciutto (about 6 ounces)
· 1 pint grape tomatoes
Instructions
Step 1
Preheat a grill to medium high and brush the grates with vegetable oil. Toss the chicken with the olive oil, vinegar, rosemary, garlic, red pepper flakes and salt in a large bowl. Place a cheese cube on a piece of chicken and wrap tightly with a slice of prosciutto. Repeat with the remaining cheese, chicken and prosciutto.
Step 2
Thread the chicken bundles onto eight 10-inch skewers along with the tomatoes. Grill the kebabs, covered, turning occasionally, until the prosciutto is crisp and the chicken is cooked through, about 10 minutes.