Slow Cooker Crack Chicken
Prep Time: 10 minutes
Cook Time: 180 minutes
Total Time: 180 minutes
Servings: 6
Cost: $3.35 /serving
Author: Katerina | Diethood
View Similar Recipes With: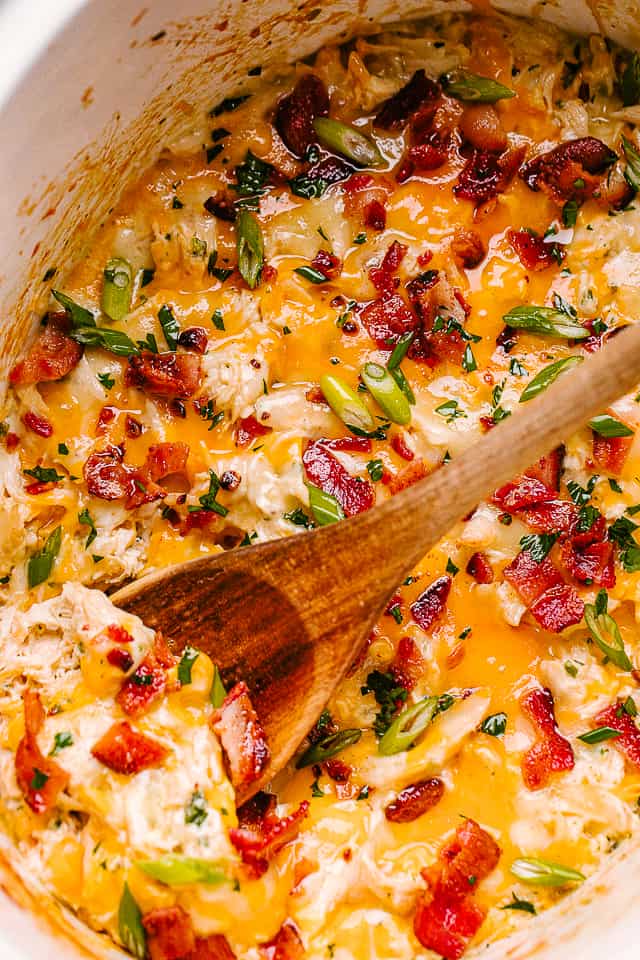 Ingredients
· ½ cup low sodium chicken broth
· 1 tablespoon ranch seasoning mix
· 4 boneless, skinless chicken breasts
· 1 block (8-ounces) cream cheese, (at room temperature, cut up into 4 pieces for easier melting)
· 2 cups shredded cheddar cheese, (divided)
· 6 slices bacon, (cooked to a crisp and chopped)
· chopped green onions, (for serving)
· chopped fresh parsley, (for garnish)
Instructions
Step 1
Pour chicken broth into slow cooker and stir in ranch seasoning mix.
Step 2
Add chicken breasts to the slow cooker and stir around to coat chicken.
Step 3
Cover with lid and set on LOW for 5 hours, or on HIGH for 2 to 3 hours.
Step 4
When done, remove lid and shred chicken inside the slow cooker using two forks.
Step 5
Stir in cream cheese and 1 ½ cups shredded cheddar cheese; stir until completely melted and combined.
Step 6
Top with remaining cheddar cheese; cover with the lid and let the cheese melt.
Step 7
Remove lid and sprinkle chopped bacon on top.
Step 8
Garnish with green onions and parsley.
Step 9
Serve in sandwiches, wraps, burgers, and/or lettuce cups.