Home Recipes Everyday Cooking Cookware and Equipment Air Fryer Cajun Air Fryer Salmon
Total Time: 20 m
Prep Time: 10 m
Cook Time: 10 m
Servings: 2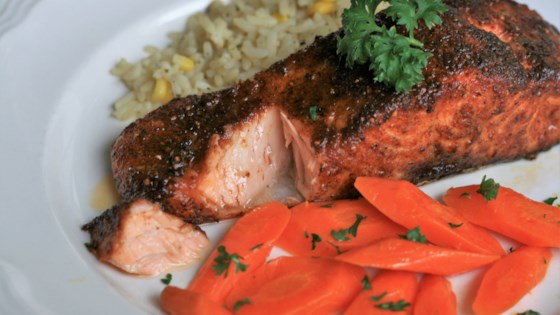 Ingredients
· 2 (6 ounce) skin-on salmon fillets
· cooking spray
· 1 tablespoon Cajun seasoning
· 1 teaspoon brown sugar
Instructions
Step 1
Step 2
Step 3
Preheat the air fryer to 390 degrees F (200 degrees C).
Step 4
Step 5
Step 6
Step 7
Rinse and dry salmon fillets with a paper towel. Mist fillets with cooking spray. Combine Cajun seasoning and brown sugar in a small bowl. Sprinkle onto a plate. Press flesh sides of fillets into the seasoning mixture.
Step 8
Step 9
Step 10
Step 11
Spray the basket of the air fryer with cooking spray and place salmon fillets skin-side down. Mist salmon again lightly with cooking spray.
Step 12
Step 13
Step 14
Step 15
Cook for 8 minutes. Remove from air fryer and let rest for 2 minutes before serving.
Step 16
Step 17
Step 18