Creamy Potato SaladBetty Crocker Kitchens
Total Time: 4 hours, 55 minutes
Prep Time: 25 minutes
Servings: 10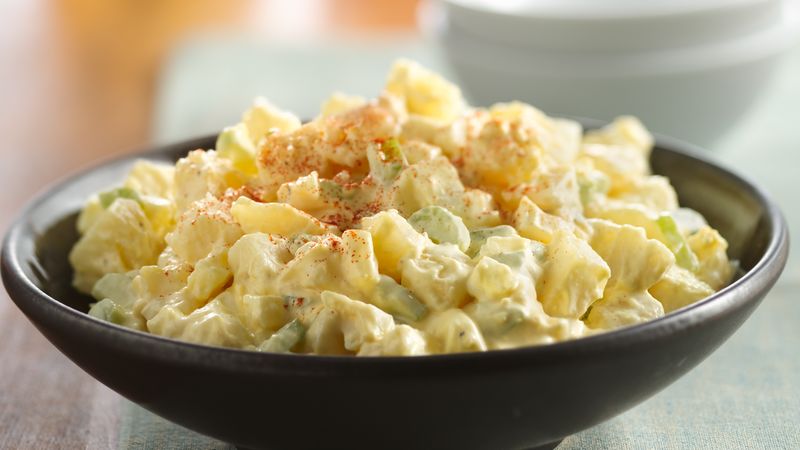 Ingredients
·
· 1 1/2
·
· pounds round red or white potatoes (about 6 medium), peeled
·
·
· 1 1/2
·
· cups mayonnaise or salad dressing
·
·
· 1
·
· tablespoon white or cider vinegar
·
·
· 1
·
· tablespoon yellow mustard
·
·
· 1
·
· teaspoon salt
·
·
· 1/4
·
· teaspoon pepper
·
·
· 2
·
· medium stalks celery, chopped (1 cup)
·
·
· 1
·
· medium onion, chopped (1/2 cup)
·
·
· 4
·
· hard-cooked eggs, chopped
·
·
·
·
· Paprika, if desired
·
Instructions
Step 1
Step 2
1
Step 3
Step 4
Place potatoes in 3-quart saucepan; add enough water to cover potatoes. Cover and heat to boiling; reduce heat to low. Cook covered 25 to 30 minutes or until potatoes are tender; drain. Let stand until cool enough to handle. Cut potatoes into cubes.
Step 5
Step 6
Step 7
Step 8
Step 9
2
Step 10
Step 11
Mix mayonnaise, vinegar, mustard, salt and pepper in large glass or plastic bowl.
Step 12
Step 13
Step 14
Step 15
Step 16
3
Step 17
Step 18
Add potatoes, celery and onion; toss. Stir in eggs. Sprinkle with paprika. Cover and refrigerate at least 4 hours to blend flavors and chill. Store covered in refrigerator.
Step 19
Step 20
Step 21
Step 22