Touchdown Honey-Roasted Chex™ MixBetty Crocker Kitchens
Total Time: 40 minutes
Prep Time: 20 minutes
Servings: 17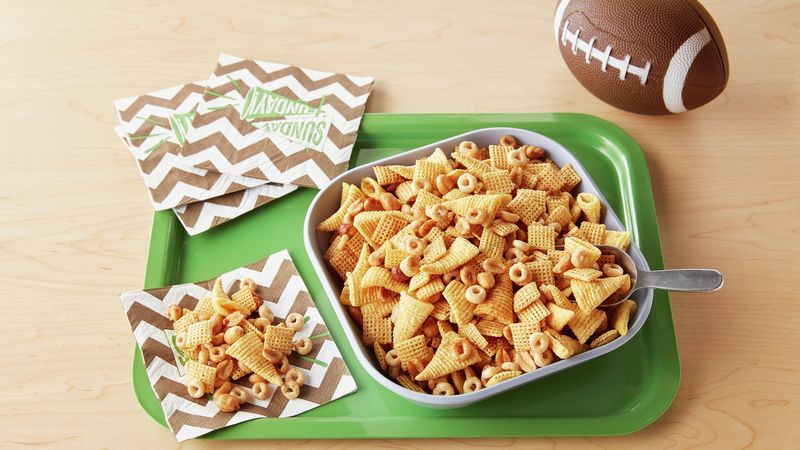 Ingredients
·
· 3
·
· cups Corn Chex™ cereal
·
·
· 2
·
· cups Honey Nut Cheerios™ cereal
·
·
· 2
·
· cups Bugles™ original corn snacks
·
·
· 1
·
· cup honey-roasted peanuts
·
·
· 1/4
·
· cup butter, cut into tablespoons
·
·
· 3
·
· tablespoons honey
·
·
· 1/2
·
· teaspoon vanilla
·
Instructions
Step 1
Step 2
1
Step 3
Step 4
Line large rimmed baking sheet with waxed paper. In large microwavable bowl, add cereals, corn snacks and peanuts.
Step 5
Step 6
Step 7
Step 8
2
Step 9
Step 10
In small microwavable bowl, microwave butter and honey uncovered on High 30 to 60 seconds or until melted. Stir in vanilla, then pour onto cereal mixture, mixing thoroughly to coat.
Step 11
Step 12
Step 13
Step 14
3
Step 15
Step 16
Microwave uncovered on High 4 to 6 minutes, stirring after every minute, until well coated and slightly toasted. Spread on baking sheet to cool, about 20 minutes. Transfer to large serving bowl.
Step 17
Step 18
Step 19