Touchdown Bacon-Chocolate-Peanut Butter Cookie BarsBetty Crocker Kitchens
Total Time: 2 hours, 40 minutes
Prep Time: 15 minutes
Servings: 16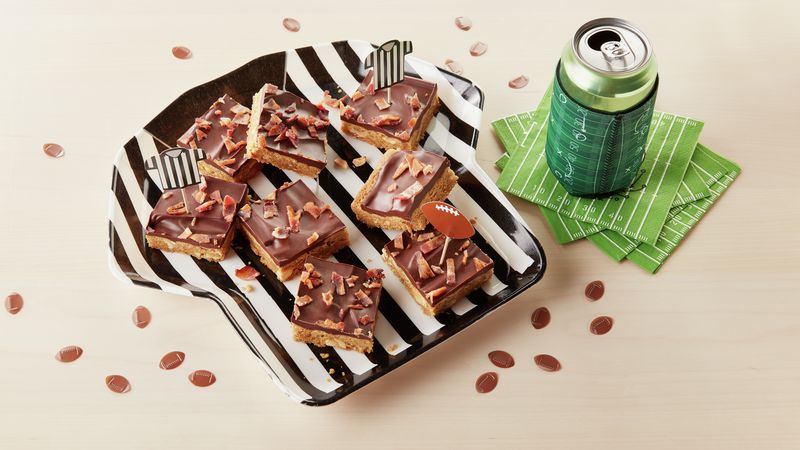 Ingredients
·
· 1
·
· pouch (17.5 oz) Betty Crocker™ peanut butter cookie mix
·
·
·
·
· Vegetable oil, water and egg called for on cookie mix pouch
·
·
· 1/2
·
· cup chopped cocktail peanuts
·
·
· 1
·
· cup semisweet chocolate chips
·
·
· 1/4
·
· cup butter, cut into pieces
·
·
· 4
·
· slices bacon, crisply cooked, crumbled (about 1/4 cup)
·
Instructions
Step 1
Step 2
1
Step 3
Step 4
Heat oven to 350°F. Spray 9-inch square pan with cooking spray.
Step 5
Step 6
Step 7
Step 8
2
Step 9
Step 10
In large bowl, stir together cookie mix, oil, water and egg until soft dough forms. Stir in peanuts. Press evenly in pan.
Step 11
Step 12
Step 13
Step 14
3
Step 15
Step 16
Bake 20 to 24 minutes or until set in center and golden brown. Cool completely, about 1 hour 30 minutes.
Step 17
Step 18
Step 19
Step 20
4
Step 21
Step 22
In small microwavable bowl, microwave chocolate chips and butter uncovered on High 30 seconds. Stir; continue to microwave in 10-second increments until mixture can be stirred smooth. Spread evenly over top of bar; sprinkle with bacon pieces. Refrigerate about 30 minutes or until chocolate is set. Cut into 4 rows by 4 rows. Store loosely covered in refrigerator.
Step 23
Step 24
Step 25